Back to Blogs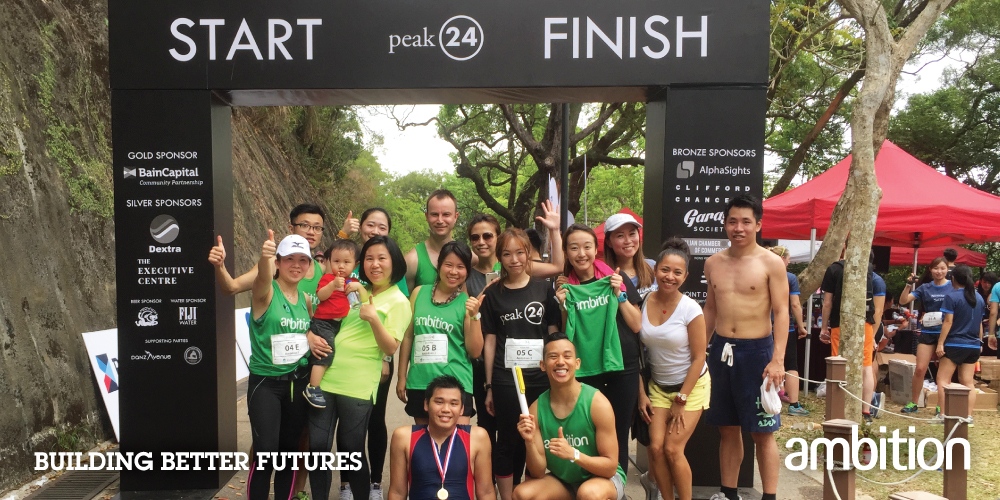 Why CSR is Good for Business as well as the Soul!
At Ambition, we talk a lot about our mission of '#BuildingBetterFutures'. We talk about it applying not only to our candidates, clients, and employees but also to the wider communities we operate in. The cynical amongst you may feel that this is yet another corporate tag-line but I can assure you that this translates to a genuine passion to 'giving back' through a variety of CSR initiatives. We may not be a business with the manpower or financial clout to run large-scale CSR programs but what we make up for in scale I believe we make for with effort and spirit!
I am therefore always delighted to see so many of us at Ambition volunteer our time and efforts to contribute to a range of worthwhile causes. Most recently 11 of us #AmbitionAthletes & #HaTCHletes participated in Peak24, a team relay race to raise funds and awareness regarding the global problem of human trafficking and modern slavery. Founded in Hong Kong in 2010, Peak 24 aim to unite millions of youth and other anti-slavery non-profit organisations to confront this issue. All proceeds from the race, went towards 'Operation 24', a joint effort by The Exodus Road and The 24 Hour Race to remove 240 victims and traffickers from human trafficking, investigate 2,400 separate locations around the world, and conduct 24,000 hours of research.
The brainchild at Ambition for us to participate in this endeavour was Keith Leung, our resident in-house ultra-marathon runner and who at this moment in training to complete ultra-marathons on every continent in the world. No small feat that may put him into the business book of records!
On the day of the Peak24 race, we formed two teams of five Ambition runners each sharing the 30km run in relay fashion and raced against poor Keith who ran the entire 30k on his own! I am delighted to say that all members of the Ambition team running made it to the finish line, Keith managing to complete his 30km faster by himself!
Finally, we were delighted to be awarded 'Best Team Spirit' out of all the run's participants and our very own Keith Leung won the Warrior Award for finishing the 30 km race first! Most importantly, as a team, we made over HK$25,000 for an incredibly good cause.
At Ambition, we want to give back because it's the right thing to do. It gives us purpose and feeds the soul! But what is also clear is that through these initiatives we bond closer together. It allows our team to spend quality time with each other out of the office in a non-work environment. It creates better team bonding, fosters a culture of helping each other and increases communication. All of this will mean better retention of our employees, a high performing team culture in the office and ultimately better results for our business in the future.