Back to Blogs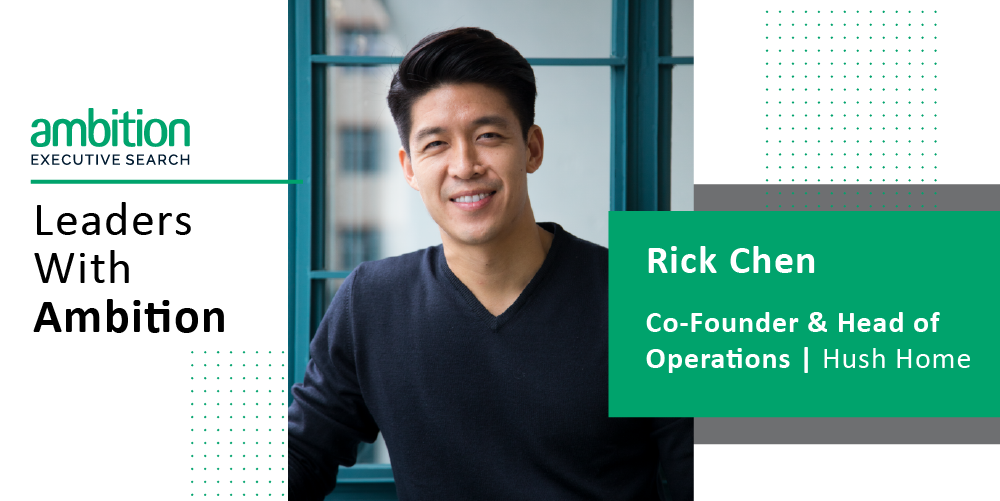 Leaders with Ambition - An interview with Rick Chen of Hush Home
There is no doubt that entrepreneurship is a tough journey. Not everyone has the courage and determination to strike out on their own, after years in the corporate world. However, Rick Chen found his purpose in venturing out and made that leap to start Hush Home. As the Co-Founder & Head of Operations, he's had to face numerous challenges and move quickly in the fast-paced startup world. Read on to learn more about his story and the group of talented people he leads at Hush Home.
​
​
1. Describe your career path to your current position today.
I consider myself fortunate. I don't have a traditional career.
I'm a co-founder of the mattress and bedding brand Hush Home. As Head of Operations, I get an opportunity every day to do what I love. It's not work in the traditional sense. In fact, our company didn't even pay me for the first few years.
My career path hasn't been straight. I'm not a natural-born entrepreneur, so I've had to challenge myself at every step and I've had a few stumbles along the way. Like most of my friends, I entered the corporate world as a professional. In the early part of my career, I made decisions that led to easy, neat outcomes for myself: a promotion, a raise. But the satisfaction from these tidy outcomes was temporary and all-too-personal; I realised I wanted to build something permanent that would positively impact other people.
So after working a decade in the corporate world, I made a change. My wife and I started with the simple goal of living happier and healthier. That goal evolved into helping other people be the best versions of themselves, which resulted in co-founding Hush Home, a company created to transform your well-being through healthy sleep.
2. What motivated you to follow your chosen profession?
My motivation to create Hush Home really started with a desire to change my relationship with work. Over time I became less satisfied with a career that focused on personal achievements. As I clocked hours at large, faceless companies, I realised that my expectations for my time were much higher: What can I do for 8+ hours per day to make a larger impact?
For me, the answer is Hush Home.
It's a mission I believe in, with a team I believe in. We wake up every day with the ambition to make customers a little happier than the day before. That motivation drove the company to achieve 70% year-on-year growth at a time the retail industry slumped to its worst year in my lifetime.
Although I'm happy with the company's trajectory, my everyday motivations are much simpler. I am delighted to be part of a team with so many talented people, I am passionate about overcoming the challenges ahead, and I am hopeful we will continue to build a company that's special to all of us.
3. What important lessons have you learnt in your career?
1) Grit is more important than intelligence.
2) Failure is harder than success. Be proud of the former and humble of the latter.
3) Progress is not linear: start early, take calculated risks, and embrace a journey into the unknown.
4. Who is your role model and tell us a bit about them.
My mother taught me to balance pragmatism with humanity. If you want to go far in business, you need to make clear-headed decisions and lead with your heart.
My father-in-law taught me to make sure the other side also wins before leaving the table. If you can't cut a deal that also benefits your counterparty, important partnerships will be short-lived.
But learning from people doesn't stop at your role models. Remember that you're the average of the five people that you spend the most time with. So choose colleagues who make you a better decision-maker, leader, and friend.
5. What inspires you?
At work, I get inspired when a teammate develops a new, creative idea. Ideas unlock potential in people and organisations.
As inspiration for you, here's a short list of awesome ideas our team has developed recently:
● Virtual customer "sale events" by Zoom
● Charity drive to spur donations to the underprivileged (which became a leading example for companies like IKEA and Starbucks)
● Seminars for Fortune 500 companies on how to "hack" sleep and improve performance
● In-store installation of "privacy curtains" permitting customers to comfortably test our products as if they're at home
6. What is your greatest achievement to date?
I just became a dad!
7. What is the biggest challenge you've faced in your career and how did you overcome it?
Starting Hush Home was an enormous challenge, shared by all of us at the company.
Early on, the team learned to lean into challenges. Unlike our previous jobs as corporate climbers where our jobs were well-defined, we quickly learned to embrace the fast-paced dynamic nature of a startup. Things changed every day and we had to adapt quickly to capture each opportunity.
Because there are so many unknowns in a startup, our job was to draw and define what we wanted, then colour it in. In one early success, we took a blank piece of paper, started with our customer, and brainstormed the whole end-to-end experience from the customer's perspective.
In addition, we became passionate about learning outside the classroom. Before our first product launch, we taught ourselves product design, manufacturing, logistics, branding, and website design. And that was only to get the chance to sell to customers.
Even more hard-fought education came next. To develop a resilient revenue stream, we learned:
how to optimise our UI/UX for conversions

create a digital content library with live chat

open, staff and operate a retail store,

and continually run A/B tests on our digital marketing
​
The first few months, our company teetered on the brink as we made mistakes, persisted, and learned how to get market awareness, sell awesome products, and make customers delighted.
​
8. What is the most valuable advice you have been given?
"In any interaction, you either gain share or lose share. So treat every interaction as a precious moment of time."
I've always remembered that quote because it demonstrates that success aggregates across micro-moments in one day, one week -- and ultimately, over your whole career. Each micro-moment, each interaction is an opportunity, so be prepared.
9. What advice would you give to professionals, given the pandemic and current market conditions?
With crisis comes opportunity. The COVID-19 pandemic is a time of great change and dislocation. Some of the changes are temporary cracks, and some permanent fractures. Look for openings where you're uniquely positioned to capitalise, then act.
(Remember that leaders are predisposed to action.)
10. Can you give me 3 things on your 'bucket list'?
Discover a philanthropic purpose larger than myself

Make a positive impact on every important relationship

Go offshore sailing with my son
11. What 3 words would you use to describe yourself?
(with tongue firmly planted in cheek)
12. If you could live in any country in the world, where would you live?
Hong Kong.
If you want to live somewhere else, do something else, or be someone else, it's your responsibility to take action. Life is a blank canvas, and you get one chance to paint your best watercolour.
13. If you won a lottery ticket worth US$10 million, what would you do?
As an entrepreneur, my goal is to consistently create value. So I'd turn $10 million into $20.
About Rick Chen:
Rick is a sailor, world traveller, and co-founder of Hush Home (hushhome.com). Established by husband-and-wife team Rick Chen and Stephanie Huen, Hush Home was created to transform everyone's well-being through healthy sleep, using its research to inspire people to sleep and live better. The popular mattresses, beds, and bedding are sustainably made from the highest quality materials by the same workshops that supply the world's leading hotels. Prior to starting the company, Rick lived in the US, Japan, Singapore, Thailand, and Taiwan before choosing Hong Kong as his home.