Back to Blogs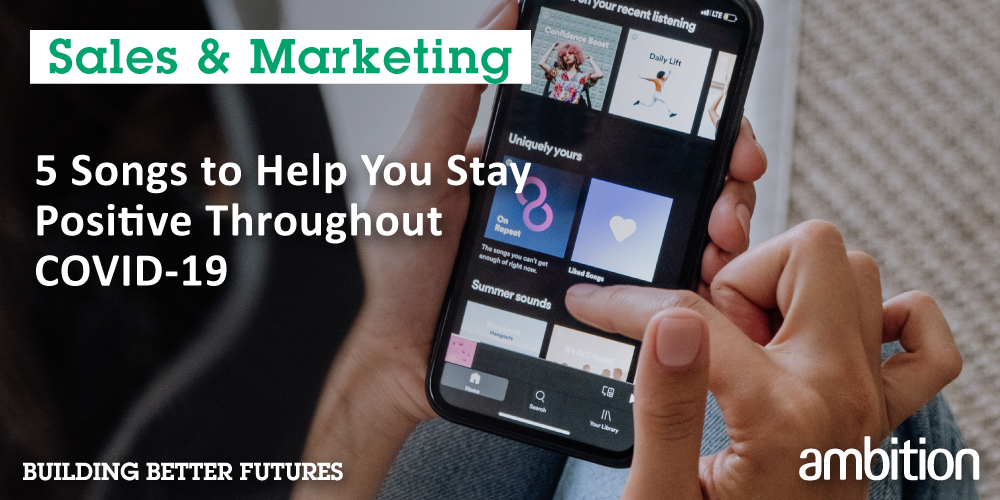 5 Songs to Help You Stay Positive Throughout COVID-19
COVID-19 is slowing down the global economy, causing organisations to face downward revenue trends and disrupted supply chains. For professionals in the workforce, this could mean salary cuts, unpaid leave or even redundancy. In such unsettling times, here are five songs that might give you some insight on how to move forward.
​
Stronger (What Doesn't Kill You)
Kelly Clarkson sang it - "What doesn't kill you makes you stronger", but she wasn't the only who said it, and we can all learn from it.
In these times, COVID-19 is an opportunity for organisations and individuals to reflect on their business model and operation methods. The drop in revenue could be a potential indicator of a business' weaknesses, making this a good time to identify and act on them.
E-commerce, for instance, would be a typical example. What we have learnt from speaking with multiple sales management professionals since the start of the year is that businesses with strong e-commerce networks are generally more prepared for the pandemic. The retail segment might be under-performing, but many of them have highlighted how their companies are mitigating their losses with the revenue from e-commerce channels.
That being said, this is an ideal time for us to review our revenue sources, evaluate the structure of our supply chain, and address problems that COVID-19 has highlighted for us.
​
Harder, Better, Faster, Stronger
We're always trying to improve ourselves in our career, but we don't seem to have the time. With COVID-19 slowing down the economy and with everyone working from home, this could be a good time to learn some new skills or get that certificate you didn't have the time for. Think about the time you save on commuting and put that time to good use.
From Google's digital marketing certificates to Six Sigma certifications for process improvement, there are plenty of qualifications or skill sets to learn that could enhance your competitiveness. Don't let COVID-19 stop you from improving your career.
​
Change is always tough, but with COVID-19 putting some companies completely out of business, change might benefit you. For those who are unemployed, changing industries could be an option.
Transitioning from one industry to another doesn't mean you have to start from the bottom. Choose an industry or sector that allows you to leverage transferable skill sets and offers you value that the last one couldn't. For instance, a coffee machine corporate sales professional could potentially be great at construction material sales. This allows you to expand your skill sets, network, and experience.
​
No one knows when the pandemic will end, but let's stay positive. Since February, multiple positive changes have taken place to make the economy functional. Cloud database, remote communication, e-commerce, etc. have redefined how businesses operate and how the workforce functions. Those who are not familiar with these may feel intimidated, but this evolution of work is also bringing up new opportunities. We will all be able to find ways to adapt to the changes, so don't fear change.
​
Not everything is about work, and it is important we don't let temporary business or career changes affect our personal life and mental well-being. Doing workouts and engaging in regular social activities are good ways to keep ourselves positive.
​
COVID-19 has been quite challenging, but this too shall pass. When it does, those who are the most prepared will be ahead of the game. Hope these tips will help you remain positive and provide better direction for your career as the world recovers.