Back to Blogs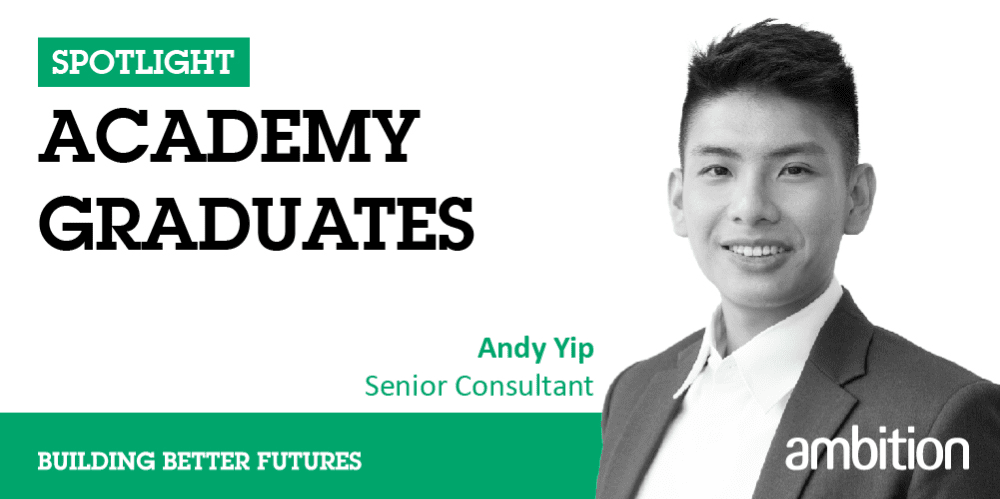 Our Ambition Academy is back! Hear from our previous Academy graduate, Andy Yip, as he shares more about his experience during the programme. Read this blog to find out more!
​*This article has been updated in October 2021.
​
1. How did you first hear about the Ambition Academy?
I came across Ambition's Academy through LinkedIn. The programme targeted people without previous experience in recruitment, and as a fresh graduate who was curious and passionate about people business, I looked into Ambition's website and decided to give it a try.
2. Can you tell me about your experience at the Academy? What did you learn?
I absolutely enjoyed my time at the Academy. It was a well-structured programme where I was offered an opportunity to pick up recruitment knowledge through interactive classroom training with another new member in Singapore, and on-the-job coaching within the Finance & Accounting team.
3. How did the Academy prepare you for your recruitment role?
They covered a wide range of topics to ensure that I could become a well-rounded Consultant, from candidate management to relationship building with clients, from recruitment theories to in-depth Finance & Accounting knowledge.
4. What did you enjoy the most about the Academy program?
The Academy equipped me not just with the theory but with real-life experience through a series of role plays with my Academy buddy. The role play really tested my knowledge which was good practice. It was interactive and fun and also a great way for me to apply what I learned
5. Who would you recommend the Academy to?
I would recommend the Academy to anyone who has no previous experience but is enthusiastic about recruitment. It is an excellent opportunity where you can learn tips from experienced industry trainers and managers who will ensure you start your recruitment career on the right path.
6. What advice would you give to those thinking about joining the Academy?
Keep an open mind. Consultants at Ambition are friendly and are more than willing to share their experience with you as long as you are keen to learn.

If you are interested in joining our Hong Kong Academy, please email your CV to LC Lim at LC.Lim@ambition.com.sg