Back to Blogs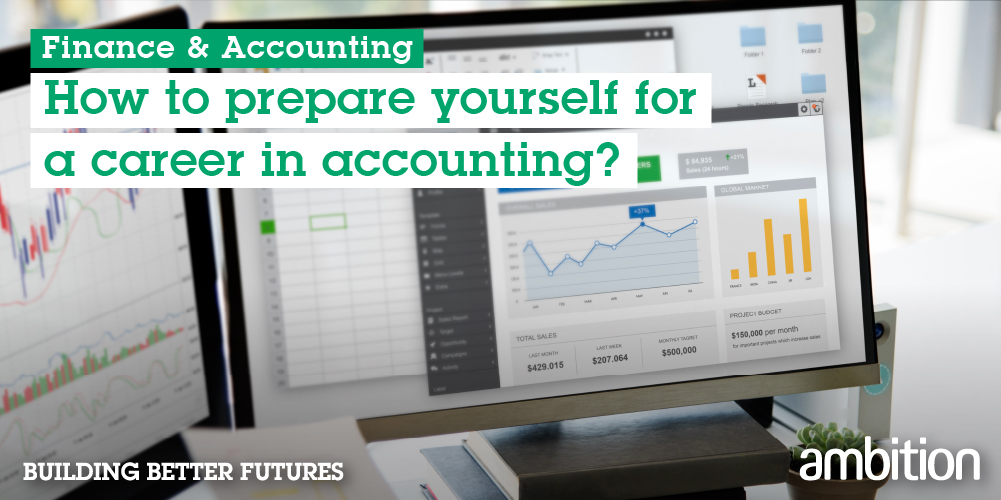 How to prepare yourself for a career in accounting?
​Accounting has always been a crucial part of running a business. After all, you can't run an efficient or profitable company if no one is keeping an eye on the 'books'. As the backbone of every business, accounting is not only a great career choice in terms of security and pay, but it also offers strong career development opportunities across different industries.
If you are considering a career in accounting, here are some general steps you can take to start your career as an accountant.
1. Earn a bachelor's degree in business
For any entry-level accounting positions in today's market, a bachelor's degree is the standard minimum requirement. It doesn't matter if you want to start your accounting career in the public sector or private sector, obtaining a bachelor's degree in business is an ideal starting point. The reason for this is because a bachelor's degree in accounting, finance or economics provides you with a foundational knowledge of accounting principles and theories.
2. Obtain professional accounting qualifications
While earning a bachelor's degree is a prerequisite for any accounting position, the degree can usually be in any subject. Even if you do not have the right degree, you can still pursue a career in accounting by obtaining a professional accounting qualification.
If you have earned a bachelor's degree in business (i.e. accounting, finance, or economics), having professional qualifications will only further increase your value as an accounting talent. These certifications are widely recognised as they not only show your deep understanding of accounting topics, but also your practical experience in the field.
To give you a good starting point, below are some of the most popular accounting qualifications:
Hong Kong Institute of Certified Public Accountants (HKICPA)

Association of Chartered Certified Accountants (ACCA)

Certified Public Accountant Australia (CPA Australia)

Chartered Institute of Management Accountants (CIMA)

Institute of Chartered Accountants in England and Wales (ICAEW)
3. Secure an internship at accounting firms
Although qualifications are undeniably important in establishing yourself in the industry, the value of real-life accountancy work cannot be underestimated. A great way to ensure you land an accounting role, is to first secure an internship at any reputable accounting firm. This way, you will benefit from increasing your work experience, and gaining access to job opportunities as well as industry connections. It is best to utilise your educational resources to find an internship while you are still in school, or you could turn to other tools such as search engines and employment sites if you have already graduated.
4. Acquire relevant accounting work experience
Kicking off an accounting career at one of the Big 4 firms of accounting and audit, is the dream for many aspiring accountants – all for a good reason. Deloitte, EY, PwC, and KPMG are well-known for providing many opportunities for training and professional development. By starting your career in one of these firms early on, it will definitely help you develop your career, build your network, expose you to a variety of industries, and expand your geographic opportunities – even if you do not plan to stay in public accounting. However, it can be highly competitive to land a job in one of these firms, so you could also consider an accounting role in external audit firms or CPA firms.
One thing to keep in mind, is to try and gain an all-rounded working experience in accounting, financial planning and analysis (FP&A), management reporting, team management, and internal control in the early stages of your career. Being all-rounded would mean you can step outside of your current role and take on new challenges, which often means you don't have to fit into anyone's job descriptions. What's more, as you work your way up the ladder, and are up for management positions, you will need skills in a variety of different areas to help you succeed.
Once you have gained sufficient industry knowledge, you can select your specialisation based on your personal interests.
5. Build a professional network
To develop your accounting career, building a professional network is one of the most essential things to do. Your network can be an invaluable source of guidance, especially if you are at the beginning of your career. This means you can connect with the right people for the right advice – from developing your skill set to handling difficult situations at work. All in all, building a professional network and spending time with like-minded professionals from other organisations and industries will give you fresh perspectives, as well as new ideas and approaches to bring to your work.
To summarise, this five-step guide can be a resource for any individuals interested to pursue a career in accounting. Having a good idea of what to expect will help you focus on developing the necessary skill set and establishing a stable foundation, as you work towards your goals to be a successful accountant.