Back to Blogs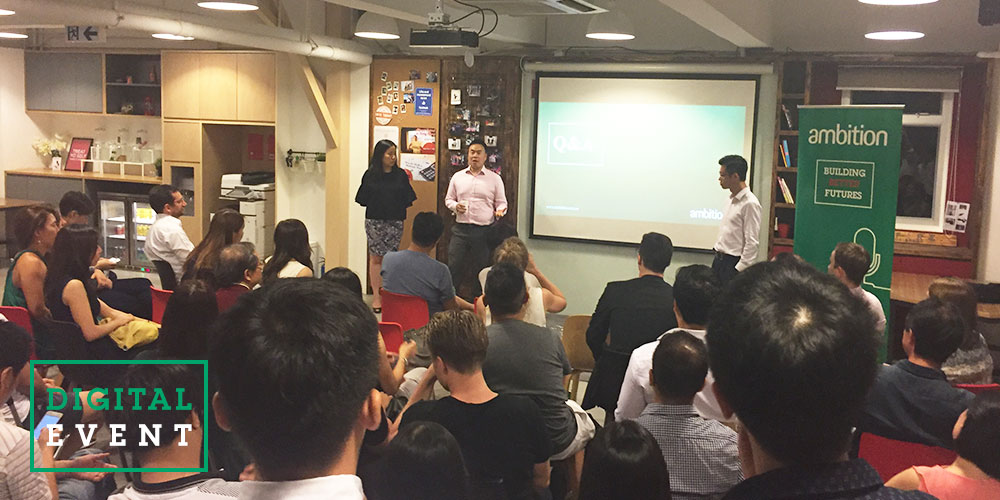 Startups: Time to get personal with your talent strategy
Ambition recently collaborated with Campfire Collaborative Spaces on the exclusive Digital event for startups, 'Top Tips for Startups to Attract Talent in Hong Kong'. Ambition's Justin Leung and Fiona Mak were speakers at the event, sharing insights into the Hong Kong job market as well as challenges that startups face when hiring and retaining talent.
A Hong Kong-founded company, Campfire is a relatively new player in a highly competitive market of co-working spaces but they are very serious about their ambitions with aggressive expansion plans locally and internationally. The Kennedy Town location was Campfire's first in Hong Kong, tugged away in an old industrial building with man-operated cargo elevators that just oozes character, in my opinion.
During the networking session, I got to meet some interesting people. Some came with brilliant ideas, eagerly looking for the right opportunity and platform to start their venture. There was a handful of successful foreign-based startups that chose Hong Kong as their launching pad for Asia.
At the event, I also met the founder of a startup whom I have gotten to know over the past few months. Their business solution, which is absolutely fascinating, is a computer vision-based technology, specifically targeting the sporting industry.
It is exciting to hear about these developments, and there seems to be a growing buzz and a great sense of positivity amongst the startup community in Hong Kong. That being said, today, recruitment and retention remain the key challenges that these startup businesses face.

While the average job seeker in Hong Kong still prefers working for MNCs or established businesses, I am seeing a noticeable increase in candidates who are curious about the type of career opportunities and career paths startups can offer. As the startup scene in Hong Kong continues to mature here, this is a rather encouraging sign.
Thank you to those who attended the event, as well as to the Campfire team for inviting us over and organizing such a wonderful sharing session. The pizza and drinks setup is definitely a keeper!
Some of the key points that we can take away from our sharing session of the day were:
1 out of 3 employees are planning on leaving their current jobs within the next 6 months

39% of employees leave their jobs because they see a lack of career progression

Job seekers with experience in data analytics, UX/UI will be in great demand

Hong Kong is lacking expertise in Cybersecurity

If you have children, make sure or consider that they learn to code!

There will be an increasing trend of using technology in the recruitment and talent screening process

The best ways startups can attract talent is to communicate your vision and make it personal

As their businesses continue to grow, startups can still offer career progression through recognition and assignment of more responsibilities to their workforce.
Good people are a huge asset for every company, and startups are no different. For startups, having access to good talent early in their life-cycle is one of the key challenges to business success. We launched Hatch to help startups in achieving this.
It is really exciting to see the continued growth of the startup scene in Hong Kong. We look forward to meeting the startup folks again in future events involving this vibrant community!
You can view photos of the event here.