Back to Blogs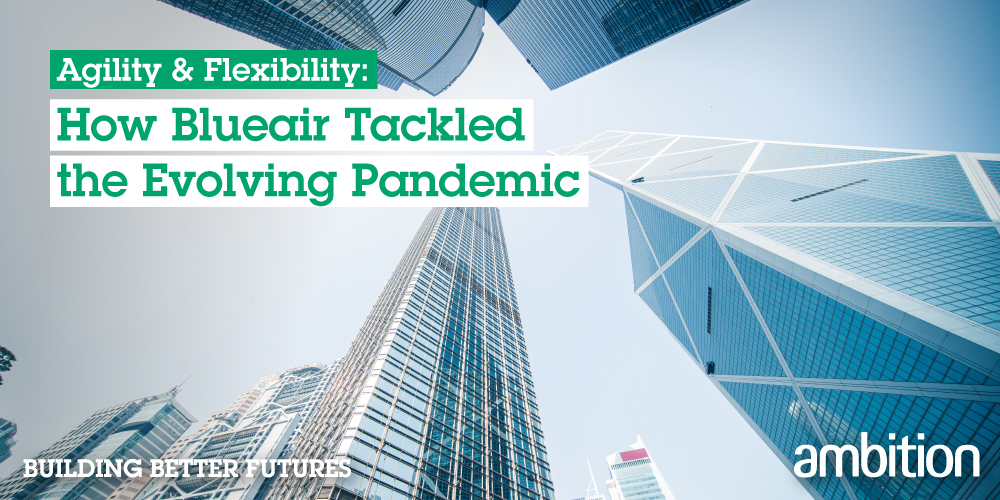 Agility & Flexibility: How Blueair Tackled the Evolving Pandemic
2020 has thrown plenty of curveballs our way. Companies have had to adapt to new ways of working and tackle tough business challenges. We spoke to Blueair, a global company dedicated to providing clean air, and asked them to share their insights and experience tackling the pandemic.
​
1. The past 15 months have been eventful for Hong Kong. How has your firm been impacted?
As one of Unilever's brands, our purpose is to make sustainable living commonplace, of which people make up a key element. It is therefore our responsibility to take care of the people we serve, and also the people associated with our business. Hence, we place employee safety as a top priority, and were an early adopter of the work from home (WFH) measures. As a hub for the APAC region, Blueair Asia has also been using video technology to work with our sales reps around the region. These practices have given us the needed agility and flexibility over the past year, so we have been well-prepared for the unprecedented situation we are currently facing.
2.From a Sales and Marketing perspective, what strategies has your team taken to stay ahead of the competition while weathering this storm?
Blueair is all about the freedom to breathe. Over the past 20 years, we have been dedicated to fighting for clean air for the next generation. We engineer the very best air purifier from Sweden that provides customers with the highest standards of clean air, with minimum noise and energy consumption. As we all know, a side effect of the events of the past year is the increasing awareness of air quality, and this has definitely given us some tailwind. Another macro trend we have leveraged is the shift towards e-commerce. With countries in lockdown and WFH policies in place, e-commerce has played a more prominent role in enabling us to not only sustain but also expand our consumer reach, so that we can help more people to breathe clean air.
3. Sales and Marketing have always been functions that require a personal touch. With social distancing, remote working measures and travel limitations in place, how has your firm adjusted to the new normal?
Indeed, sales and marketing are never as effective without a personal touch. While we can all try to mitigate this with technologies like video conferencing, our purpose-led business model plays a key role in our adjustment to the new normal. With 'clean air for the next generation' at the heart of Blueair, it helps us establish a unique and strong bond with our customers, partners, and colleagues.
4. As Sales and Marketing professionals are on the front line, what advice would you give to fellow professionals to stay competitive amidst the global health crisis and economic downturn?
Embrace the change and look for sustainability! Amidst the pandemic and economic uncertainty, there will be significant reshaping in the business world. Some industries will collapse, while some will thrive in the new normal. Among the thriving ones, a lot of them play an important role in helping people to achieve sustainable living. Blueair, dedicated to providing clean air over the last 20 years, is a good example that we have never been more relevant in the world. Ultimately, we all need to play a role in building a sustainable planet. Hence, we need to hold on to this mindset as we embark on this long-term movement.
5. The COVID-19 pandemic is changing the economy and the way we work. What has changed or could be changed in the traits that your firm looks for in Sales and Marketing professionals?
Blueair has always been a team that embraces agility and flexibility. In the post-pandemic world, we envision that we will double down on these abilities, as we would like our team to be able to effectively maneuver around any upcoming changes. At the end of the day, we never know what the next big change will be.