Back to Blogs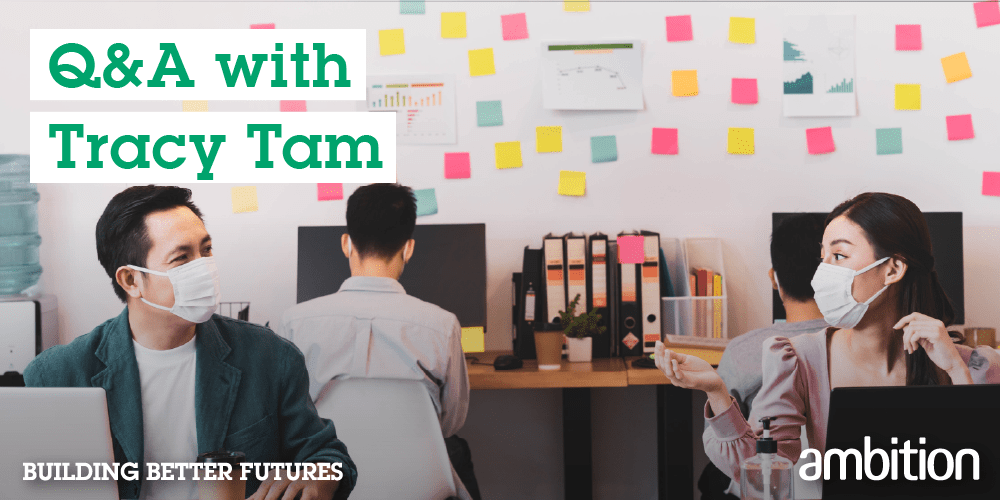 Back to Work Programme - Q&A with Tracy Tam
1. Why does the Back to Work programme exist?
From our day-to-day recruitment experiences, we have seen many candidates who may have to adjust or interrupt their careers for family or personal needs - whether they need an extended career break to raise children, to look after a loved one, to recuperate from an illness, or to pursue a personal goal. We understand that returning to work from a career break can be a daunting prospect. We, Ambition, as a leading boutique specialist recruitment firm would like to extend our support to our community by offering and sharing our best professional advice.
2. What is the Back to Work programme?
Ambition's 'Back to Work' programme is a 2-week course, starting on October 19, aimed at reintegrating professionals who have taken a career break back into the workforce. Upon screening, Ambition will select up to 15 professionals to enrol in our customised workshops to prepare, encourage, and support them in what to expect in their next role. We would love for you or anyone who you think may be interested to be part of our programme.
3. What is your personal experience taking a career break?
We all need a break from work sometimes but the breaks may turn out to be longer than usual. A couple of years back, the year right after I got married; my dad had a sudden heart attack and died. My mom fell really sick after my dad passed away and needed much caring and attention. At the same time, my husband was assigned to relocate to Shanghai for 12 months to take up an urgent work project.
I still remember how all these events struck me simultaneously. As a working woman, I had to make very smart decisions between career and family needs. Lucky enough that I had profound support from my employer - Ambition.
I was allowed to temporarily switch to a 4-day work week so that I could have more time to care for my mother. I was also given a 3-month sabbatical leave so that I could travel to Shanghai to spend some time with my husband. During this flexible work arrangement, my performance did not drop. In fact, that year turned out to be one of my best performing years. While I had to juggle my time amongst various priorities, I realised that I gained better time management skills and problem-solving skills.
After spending eight years leading and managing the Banking & Financial Services team in providing hands-on recruitment services for our clients and candidates at Ambition, I took a one-year career break to travel the world to expand my horizons. I travelled to many places such as Holland, Chicago, Calgary, Beijing, Kyoto, and Barcelona during this break to experience different cultures. While I was extensively travelling and was away from home, I had to adapt myself to unfamiliar environments and unexpected situations, I learned to stay open-minded and to resolve problems using new perspectives.
Making the most of my time in a career break to take on new challenges outside of a conventional job can definitely expand skill sets in a unique way. My travel break had allowed me to gain great exposure as well as to refocus my career goals; it made me think clearly about what I really wanted in my next role and that's how I found my passion in training and coaching.
4. How will this programme help participants regain their confidence in going back to work?
First of all, the Back to Work programme aims to bring together like-minded ambitious professionals who are keen to go back to work after their career breaks. We believe that this programme will allow them to gain stronger peer support and their job search will no longer be a lonesome journey.
We understand that candidates who have taken an extended career break may feel low in confidence, don't know where to start, and struggle to explain their employment gaps. We highly believe that this often untapped pool of talent still has lots to offer to our clients. In our programme, we will have some real successful candidate returners story sharing as well as client guest speakers who will share with us how their organisations support diversity and how employers look at career gaps. Our workshops are customised for our participants to learn and practise essential skills such as CV writing, personal branding, interview do's and don'ts, and professional networking skills. During the 2-week-programme, we will arrange for each participant to have a 1-on-1 consultation interview with our specialist recruiters to learn more about specific industry updates and hiring trends. At the end of the programme, we will arrange a few sessions where participants have the opportunity to meet potential employers in a relaxed and casual setting, to put their learned interviewing and networking skills from workshops into practice.
5. Who is this programme suitable for?
If you are looking to return back to work and fulfil the criteria below then please apply by clicking the button below and send us your resume! If selected, we will be in contact within the next 2 weeks to confirm your participation and further details. If it is not for you, but you do know someone that could be interested then please do forward this on and ask them to apply!
Minimum 8 years of professional full-time experience

Out of the workforce for a minimum of 12 months

Open to opportunities in full-time/part-time/permanent and contract roles based in Hong Kong

Previous career history in one of the following areas – Compliance, Risk Management, Operations, Finance & Accounting, Internal Audit, Sales, Marketing, Technology, Human Resources, Business Support, or Supply Chain and Procurement

Eligible to work in Hong Kong

Must be available to attend all workshops and events on

Oct 19, Oct 21, Oct 26 and Oct 28.
6. How do I enrol in this programme?
To apply for our Back to Work programme, please click here.