Back to Blogs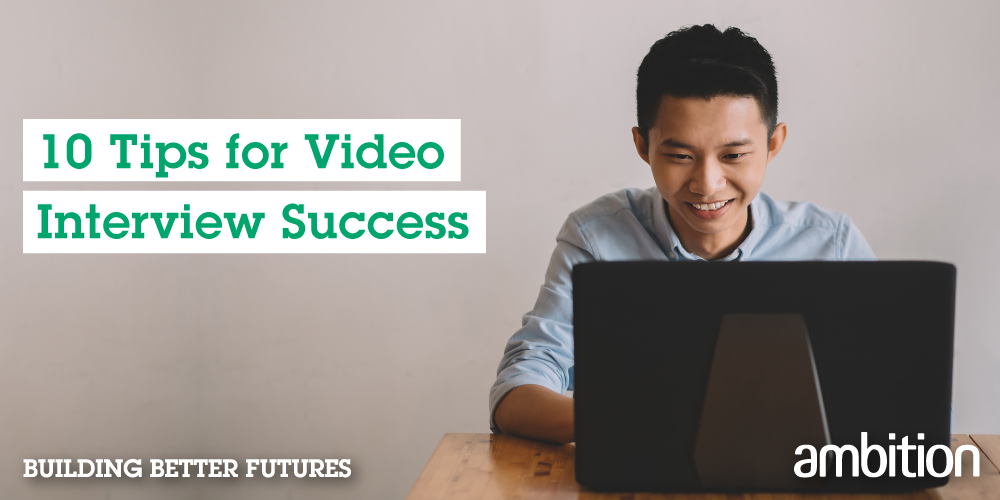 10 Tips for Video Interview Success
Do you have a video interview coming up on your schedule? Going for an interview can be a nerve-wracking experience but a confident and well-prepared interviewee will typically emerge as a star candidate and get ahead of the rest of the pack to clinch the job.
Often, jobseekers take the same approach when preparing for a video interview as they do for a face-to-face (F2F) interview. Thus leaving them unprepared to manage the challenges and pick up on subtle nuances that a video interview poses. Here are 9 tips to help you ace your video interviews:
1. Set yourself up for success
Sounds basic but do not conduct a video interview whilst walking the dog! Know beforehand exactly where you will take the call. This is ideally a quiet room where you can set the camera up in the direction you will be facing and it should be prepared well in advance of answering the call. You should be in a room where you will not be interrupted and have a fast internet connection. Don't dial in late, but also don't dial in half an hour before the call. A couple of minutes before the allotted time is perfect. Think about how you look on-screen and do not sit too close to the camera such that the interviewer can see up your nose! At the same time, do not be so far away that they cannot engage with you. If you are in a location that has any background noise whatsoever, then it's worth investing in a headset or high-quality wireless earphones (with a built-in microphone).
2. Be tech-savvy!
These days joining a video conference (VC) is generally straight forward but there are many tools and video platforms organisations use for video calls and conferences. It could be as simple as using FaceTime or WhatsApp. However, it could also be via a number of the 'Unified Communications' tools or AV platforms such as Zoom, BlueJeans or Microsoft teams. Whatever the tool is, familiarise yourself with the technology. If required download the app well in advance (i.e. the day before) and if necessary, test it.
3. If you cannot hear, then say so quickly!
Don't be afraid to ask your interviewer to repeat the questions, if you can't hear them clearly. At times there may be a slight time lag due to the network connection, or there may be some unexpected background noises. It is always better to ask your interviewer to repeat themselves than to not answer the questions (or to answer the wrong question).
4. Stay focused
Turn your mobile phone off prior to any VC interview, just as you would in any normal F2F interview. Whilst on the VC do not spend your time looking at another screen, reading documents or eating. Additionally, make sure your kids or the dog are not going to burst into the room at any moment! It may make for a viral YouTube video but it won't do you any favours getting the job!
5. Be prepared
Probably my number 1 rule for any interview! Take several hours prior to the interview to prepare yourself. You need to be able to describe and portray yourself in a positive and balanced manner. Review your career to date and understand your key skills, strengths, accomplishments, and shortcomings. You need to be able to explain your reasons for leaving past employers as well as your short- and medium-term career goals. You must also research the job, organisation, and your interviewer(s). Take time to practise so that you can articulate clearly how your skills and experience match to the role and how can you add value to the company in this position.
6. Ask intelligent questions
Always avoid asking about working hours or salary in your first interview. Also try and steer clear of run of the mill questions that every other interviewee will ask. Always have a few intelligent and well-researched questions at hand that you can bring up. Someone who has no questions either thinks they already know everything about the role and company (which is impossible) or cannot really be interested in the job; neither of which is likely to create a favourable impression with the interviewer!
7. Dress appropriately
Interviewing 'virtually' does NOT mean you can wear pyjamas! Ensure that you are dressed and groomed appropriately for the interview, so if a suit is appropriate then wear it. If your interview is with a tech startup, then something more casual is fine.
8. Make a great first impression
Even over VC, in the first five minutes your interviewer will form an impression about you that is rarely overturned. So it's essential that you make a positive impact in the way you dress, communicate, and present yourself. Speaking clearly, smiling, offering positive greetings, and making good eye contact really does matter!
9. Build rapport
In the interview, you need to build rapport quickly with your interviewer and you can do so by projecting energy, interest, and sincerity. Quickly analyse the interviewer's style and adjust your approach accordingly. Paying attention to your body language, particularly maintaining eye contact, generates trust, confidence, and credibility. Also, let your facial expressions reflect the flow and tone of the discussion and smile where appropriate. Listen carefully to comments and questions, and answer questions thoroughly and concisely. Lastly, do not interrupt your interviewer!
10. Finish in style
Whilst first impressions are important as both the interviewer and you form an instant judgment about each other, final impressions are also crucial. Final impressions can sway a neutral view to positive if you finish strong. When the interviewer has signalled the end of the interview, you should thank the interviewer for their time, and reaffirm your interest in the position and in working with them. You should use this approach even if your initial reaction to the job is negative – it's always easier to change your mind from yes to no than from no to yes!