Back to Blogs
Ambition x ShowCode Coding Challenge 2020
Are you a software engineer, developer or someone with a passion for coding? Are you ready to put your skills (and fingers) to the test? Do you have what it takes to compete with the best of the best and emerge victorious?
Ambition is excited to launch the Ambition x ShowCode Coding Challenge 2020! Pit yourself against other talented coders as you race against the clock to complete a series of coding tests. Stand a chance to win exciting prizes and the bragging rights as the winner of the Ambition x ShowCode Coding Challenge 2020. This is the ultimate coding challenge that you wouldn't want to miss! Read on to find out more about the challenge details and to get started:
Challenge Details:
​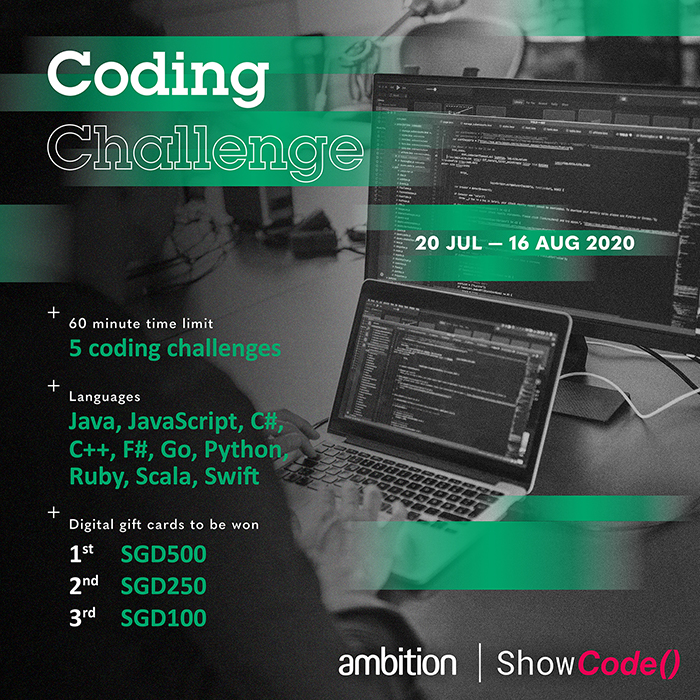 ​


Think you're up for the challenge? Get started today:
​
Terms & Conditions:
1. This challenge is managed by Ambition Group Singapore Pte. Ltd. ("Ambition Group"). The Ambition x ShowCode Coding Challenge 2020 ("The Coding Challenge") is a coding challenge whereby the winning individual will be awarded a SGD500 digital gift card or a prize with at least an equivalent value. Second place will receive a SGD250 digital gift card or equivalent. Third place will receive a SGD100 digital gift card or equivalent. The ultimate format of the prizes will be determined by Ambition Group at its sole and absolute discretion. The prizes must be accepted as awarded and cannot be transferred, substituted or redeemed for cash. Ambition Group reserves the right, at its sole and absolute discretion, to substitute the prizes awarded with an item of comparable or greater value.
2. To be eligible to enter into The Coding Challenge, participants must register for the competition through completing the form on any of Ambition Group Asia's websites (www.ambition.com.sg, www.ambition.com.hk, www.ambition.com.my). Participants must participate on an individual basis. Immediate family members of employees at Ambition Group and its subsidiaries and affiliates are excluded from participating.
3. The winners must be able to receive the prizes in one of our Ambition Group offices located in Asia and Australia. Ambition has a physical presence in Singapore, Kuala Lumpur, Hong Kong, Sydney, Brisbane, and Melbourne.
4. The Coding Challenge will close on 23:59 (GMT+8) on Sunday, 16 August 2020. All participants must complete the 5 coding challenges to be eligible to win the prizes.
5. The nature and specifics of The Coding Challenge are at the sole and absolute discretion of Ambition Group and are subject to change at any time. The challenge is administered through ShowCode's platform and upon completion of the 5 coding challenges, scoring will be computed automatically and participants will be ranked based on their scores for the challenges. In the case of a draw, Ambition Group will have the final say on the top 3 participants who will receive the prizes.
6. For any queries/concerns related to The Coding Challenge, please contact the Ambition Group Asia Marketing Team at: marketingsg@ambition.com.sg.
7. Ambition Group retains its sole absolute discretion in organising The Coding Challenge, including its decision to accept or reject any participants, change these terms and conditions, including any prizes offered, and cancel The Coding Challenge without notice, and its decision shall be final and not subject to challenge.