Back to Blogs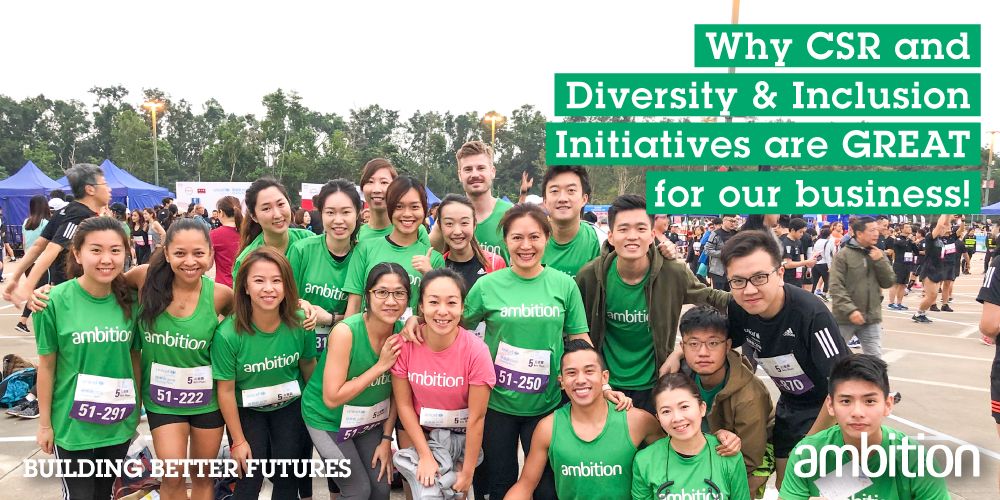 Why CSR and Diversity & Inclusion Initiatives are GREAT for our business!
I am immensely proud to work for a business that achieves fantastic results but is also committed to giving back. In 2018, Ambition in Hong Kong, Singapore and Malaysia celebrated what was our best result ever from a top-line revenue perspective since we opened our doors for business here in Asia. A factor in this success has been the ongoing commitment to CSR and Diversity & Inclusion and let me explain why…

At Ambition, we talk a lot about our mission of 'Building Better Futures'. We talk about it in the context of our candidates, clients, and employees but also to the wider communities we operate in. This translates to a genuine passion for giving back. We may not be a business with the manpower or financial clout to run large-scale programmes but where we may fall short in scale, I believe we make up for it with our overwhelming effort and spirit! I am therefore always delighted to see so many of us at Ambition volunteering our time and efforts to contribute to a range of worthwhile causes.

What have we been up to?
Over the last 12 months in Asia, we have raised over HK$321,000 for various causes. For a business our size, I feel that this is a great effort. Our team has participated in a wide variety of initiatives to raise funds. These include the UNICEF Charity Run at Hong Kong Disneyland, the CPA Australia Charity 10km run, a 250km desert run across the Grand Canyon in the USandgrowing facial hair to raise awareness during Movember. We have dedicated our time and efforts running initiatives for our communities such as our –


High School Intern Programme

University Intern Programme

running LGBT+ training sessions for young College Performers

visiting schools to work with underprivileged children

volunteering at Soup Kitchens

delivering Christmas gifts to young children as well as packing goodie bags for the Singapore Cancer Society
We have held full-house events for our clients and our employees such as our Charity Open House & Toy Drive, Cheese & Wine event to help the Tsunami and Sulawesi families in Indonesia in Singapore, hosting a movie night for underprivileged children in Malaysia and our charity auctions. So far in 2019, we have run a Lunar New Year Raffle and for International Women's Day, we held a cook-off event to raise money for charity in each of our three Asia offices!

In addition, we also partner with several organisations such as CPA Australia and the Australian Chamber of Commerce in Hong Kong (AustCham). For the past 5 years, we've sponsored the CPA Australia 10km signature charity run (with 10 of us running it on the high altitude!) to raise funds for the Hong Kong Cancer Fund. Through our work with AustCham, we also sponsor the AustCham Women in Business Network (WIBN) whose mission is to connect, support and advance women in business and promote gender diversity within the Hong Kong business community.

One initiative we hold quite close to our hearts is our Back to Work (B2W) programme which we launched last year. In a nutshell, it is a 4-week programme of workshops aimed at reintegrating professionals, who have taken a career break, back into the workforce. Many corporate businesses have their own B2W programmes (which are stupendous programmes that inspire us!) and there are also many organisations out there doing a fantastic job working directly in this space to help both mothers and fathers return to work after time out and those who have chosen to take a career break for other reasons. Again, these are fantastic organisations and I raise my hat to them. However, we had not seen a multinational recruitment company offer something similar, so this was different and exciting for us. When organisations run a new initiative for the first time, there are bound to be some bumps along the way. We did not get everything right and it was not easy. However, we persevered and the programme was a huge success! It was subsequently rolled out in all of our Asia locations.

Most recently, 35 of us took a half day off work to volunteered in a soup kitchen in all 3 locations, preparing nutritious hot meals to serve underprivileged communities. On 14th April this month, another 10 of us will participate in Peak24, a team relay race to raise funds and awareness regarding the global problem of human trafficking and modern slavery in Hong Kong.

….so yes, we have been busy!


Why this is all good for business?
At Ambition, we want to give back to the community because it is the right thing to do. But what is also clear is that through these initiatives we bond and become closer as a team. It allows our team to spend quality time with each other out of the office in a non-work environment. It creates better bonds within the team, fosters a culture of helping each other, and encourages greater communication. All of this means better retention of our employees, a high performing team culture in the office and ultimately better results for our business. Internally within our own organisation, there has been very positive feedback. Our employees can see we are being innovative and that we are committed to doing things differently. They see that we are going above and beyond to help our communities as well as having a strong commitment to Diversity & Inclusion. My hope is that we can continue to run similar programmes and engage our highly talented team. Through this, we'll drive higher levels of engagement and enjoyment at work as well as fostering a truly diverse and inclusive culture, which in turn, will only help us to get even better results!

Another benefit is that many of those we come into contact with through these initiatives become our candidates, clients, partners or supporters. With our B2W programme, because we had such a talented group of professionals graduate from our programme and with almost all securing new roles, these individuals will also go on to be future hiring managers and our future clients. We have also received highly positive feedback from our existing client base, and I was truly excited to see how many organisations were interested to discuss the programme with us, which shows Asia's increasing commitment to Diversity & Inclusion.

Therefore, for any business looking to make a commitment to CSR or Diversity & Inclusion, I would strongly advocate it. There are no guarantees and it is certainly not a fast track to success but in the end, I genuinely believe your business will be more successful because of it!

I am so proud of our Ambition Hong Kong team for putting these programmes together. Such initiatives demonstrate our ongoing commitment to 'Building Better Futures' for the communities we operate in. Just another reason why I love my job!