Back to Blogs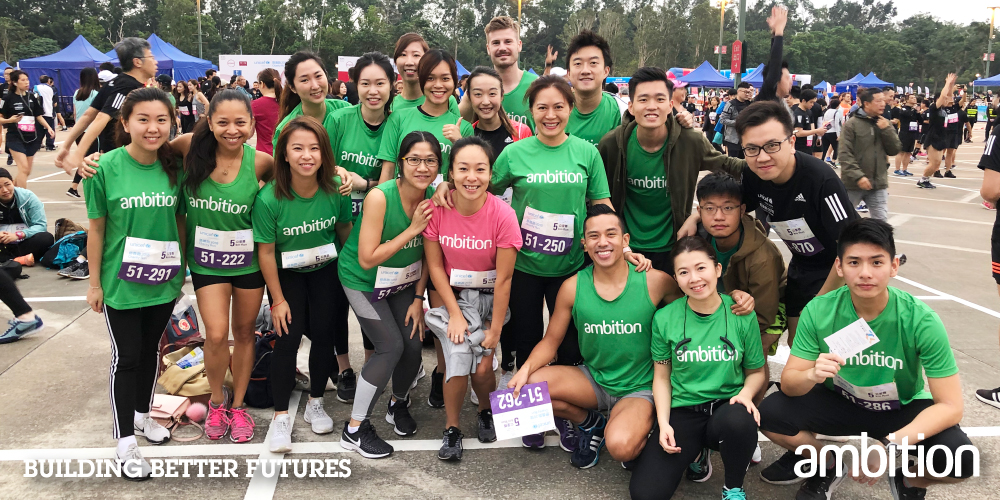 A Run to Remember: UNICEF 2018 Charity Run
I wake up before my alarm rings and my adrenaline is pulsing. 19 of my most dedicated colleagues and I will join our 3rd year in the UNICEF Charity Run.
Before sunrise, we grab a taxi and make our way to Hong Kong Disneyland, the venue sponsor. After a 45 minute drive, we find ourselves basking in sunlight illuminating thousands of people, all in motion! The energy is contagious as the participants fill the massive Hong Kong Disneyland exterior to stretch, warm up, take photos, cheer on other friends, colleagues, and family members already in the process of their half-marathon and 10km runs. As our team approaches our 7:45 am time slot to begin our 5km "Fun" Run, some of us wade through the crowd right up to the front to make the most out of the competition. Then, the horn roars loudly to start the race, and the stampede of people of all ages take off in an effort to finish to best their own record. A few of us quickly sprint over the start line and we're off! Ultimately, we finished a highly competitive and fast race, with our fastest runner finishing 6th overall, complete with numerous sweaty team high fives and cheers as all 20 triumphed past the finish line. And of course, we did not forget to snap the headlining photo above to mark the spectacular event.
You may be wondering, why did we give up our weekend to join such an early and physically demanding event? UNICEF's main goal is "Run for Every Child, End Aids," with the intention to help eliminate mother-to-child transmission of HIV. Personally, being part of this annual event gives me such a profound feeling of pride and astonishment. To have so many colleagues take time out of their weekend to not only participate but raise thousands of dollars for children in need is something I'm very proud of. Every day my colleagues work so hard to surpass their own work targets, that to constantly dedicate themselves annually to various forms of charity work is unbelievable.
I would like to thank the UNICEF Hong Kong team for going above and beyond to set up such a heart-racing (literally) and important event to save our fellow humans. Also, thank you to the Ambition & HaTCH teams, who take our Corporate Social Responsibility efforts seriously, whether through supporting our Diversity and Inclusion initiatives or being part of our Christmas Toy Drive. Let's continue to do our best every day to make sure we are #BuildingBetterFutures, not only for our clients and professionals but for the world as a whole.
We are still continuing to raise money for two charities. To donate, please visit the following links:
UNICEF https://www.ambition.com.hk/unicef-charity-run-2018
Movember https://mobro.co/13788396
We would like to thank the following runners who joined the event.
• Daisy Lam
• Jenny Yuen
• Rhoda Rivera
• Chloe Yang
• Youni Nip
• Bond Sze
• Mandy Mak
• Anki Lau
• Mavis Chan
• Twinkle Yip
• Joyce Ho
• Alexandra Leung
• Alex King
• Karen Chan
• Karis Chan
• Andy Yip
• Nelson Lee
• Anthony Chan
• Zo Paglinawan