Back to Blogs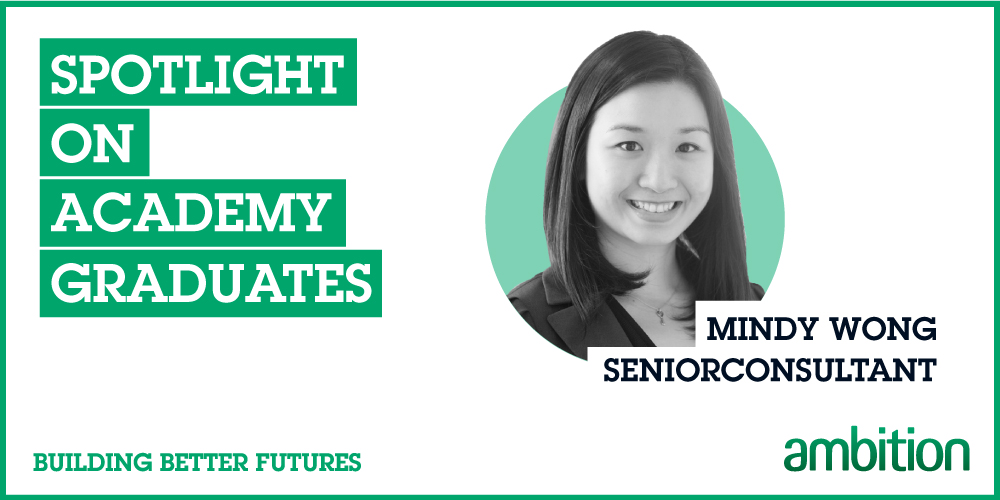 Mindy's Reflection on the Ambition Academy
1. How did you first hear about the Ambition Academy
I had applied for a role via Ambition's job advertisement and after a chat with one of the consultants, they asked if I would be interested in a role as a recruiter! After having met with a few more consultants and managers, I realised the opportunity matched my career aspirations and that I was just in time to qualify for the Academy along with a few others.
2. Can you tell me about your experience at the Academy? What did you learn?
This was a 6-8 week training in a group basis where we went through a series of planned modules on all aspects of recruitment – from the very first call to candidates through to securing a role for them and in helping companies form the right team. We shared our individual learnings and performed practical side of on the job training so we could see how to put theory into practice and gain 360 feedback.
3. How did the Academy prepare you for your next role?
The transition from Academy to my initial role as Associate Consultant was seamless. By the time training ended, I was equipped to carry out the fundamentals of the day-to-day recruiter role. There were also sessions where we had experienced consultants sharing their own stories so we could be better equipped for real-time situations and how to better handle unexpected questions.
4. What did you enjoy the most about the Academy program?
There was a lot of training, a lot of new concepts to learn and definitely a lot of sharing. I particularly enjoyed hearing from experienced consultants so to better prepare myself and being able to visualise what my career path would be as an experienced recruiter in the coming years.
5. Who would you recommend the Academy to?
This is an intensive training program for someone who is ready to unlearn from their past experiences and learn from some of the successful recruiters in the industry! We welcome new joiners from all walks of life and those ready for a new challenge. It's the best fit for someone who is driven and persistent to succeed.
6. What advice would you give to those thinking about joining the Academy?
Don't think twice! If you get a chance to join the next Academy, hop on that ride and be prepared to learn the skills and knowledge beyond recruiting.

If you are interested in joining our Hong Kong Academy, please email your CV to Grace Khew at grace.khew@ambition.com.sg. ​