Back to Blogs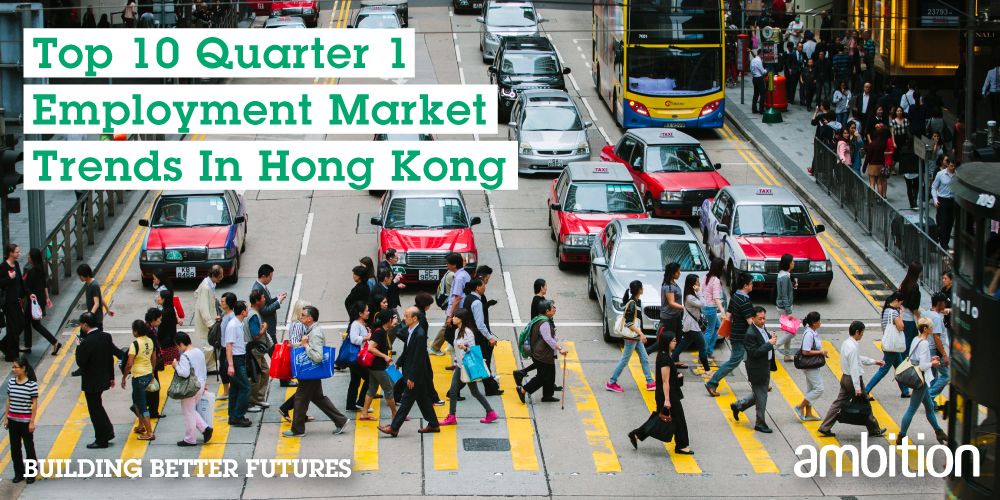 Quarter 1 Top 10 Employment Market Trends in Hong Kong
Slower Start to 2019 in Banking: Even as the FinTech sector is growing fast, there is a level of caution around hiring within traditional banks in Hong Kong at the start of 2019. Hiring volume lags behind as compared to last year and there is a more cautious approach to hiring being taken, as banks adopt a 'wait and see approach' due to a degree of uncertainty in financial markets both regionally and globally. Although bonuses, in general, are similar to last year, we are currently seeing a lot of candidates taking a more conservative/passive approach to searching for a new role, but we do anticipate this to pick up.

Contingent Workforce Growth: A leading trend in the past few years has been the growth in demand for contracting professionals especially within the Banking and Technology sectors, and we expect contingent hiring to remain strong this year. However, whilst organisations continue to hire contingent workers and with the overall market still 'growing', we have noted a slight slowdown at the start of the year in the demand and volume of hires in banks as they take a slightly more conservative approach.

FinTech 'Booming': We have seen an increased demand within this sector during the past 12 months and we expect this upward trend to continue. The world of FinTech is rapidly evolving and if it isn't the hottest sector in Hong Kong right now, then it's close! It is interesting to note that whilst the number of Blockchain roles in the market continues to increase, the volatility and uncertainty surrounding the Cryptocurrency markets has meant that demand and hiring into this area has dropped recently. However, the sheer number of FinTech events held in Hong Kong indicates that there is considerable financial investment and a high level of interest from both the private and government sectors.

Innovation Roles Increasing: Roles focusing purely on driving innovation are increasing. These professionals identify future demands of consumers, spot trends and drive technological developments to enable companies to stay at the forefront of their industries, with many banks & financial services now building out their own innovation 'hubs' or 'teams'. We have also seen an increase in their utilisation to facilitate hiring through events such as Hackathons.

Big Data Specialists, Cyber & Disruptive Technology Skillsets in Demand: There is a consistent increase in the number of data analytics roles in the market. ETL (Extract Transfer Load) experience, Python, R, and SAS are all in-demand skill sets. Additionally, the demand for cloud computing, mobile, and digital technology experts continue to be high. Cyber-security also remains a sought-after skillset with IT security being a high priority for many companies. IT Security Analysts through to CISO and Director level IT security professionals are in demand.

Demand for Finance & Accounting Professionals Remain Steady: Hong Kong remains a leading Asian financial hub and a platform for investment into China. Therefore, demand for finance & accounting professionals with strong accounting and/or financial analytical skills, coupled with excellent business acumen has remained steady in 2019 and we expect this to continue in the next 12 months.

Marketing Roles are Evolving: The role of marketing within an organisation has evolved. High on an employer's priority list are digital marketers, product managers (banking), data analytics specialists, e-commerce managers, and SEO/SEM experts. Specialist customer experience (CX) professionals are also in demand. Many of these roles now require specific niche technical skillsets that are difficult to find and are highly sought-after.

Startup Hiring Evolving: The startup ecosystem has grown dramatically in recent years in Hong Kong. Hiring demand from startups have been focused mainly on tech talent but more recently, we have seen greater demand from startups for sales, marketing and finance professionals as they evolve into revenue-generating businesses.

Tech Talent still in Demand: Demand for top tech talent remains high, especially for Software Engineers. We expect this demand to continue, with knowledge of iOS, Android, C++, and Java etc. skillsets to be highly sought-after in 2019.

Steady Hiring in Compliance, Risk and Cyber–Security: Greater hiring demand in banking is coming from the compliance, risk management, and cyber-security departments in major financial institutions. IT security also remains a high priority, and IT Security Analysts through to CISO and Director level IT security professionals are in demand.
If you are looking for a new role in 2019, please get in touch if you would like to find out about the exciting opportunities Ambition is currently working on. For employers with talented individuals working in these positions, our advice is that it is critical to have retention strategies in place to avoid attrition as highly qualified individuals with these skill sets will be in demand in 2019.