Back to Blogs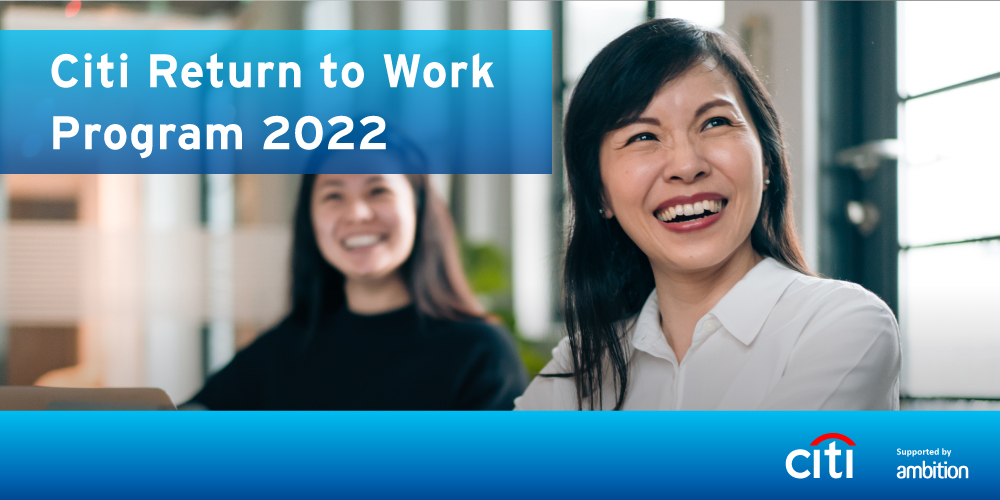 Citi Return to Work - Everything You Need to Know
We're excited to announce the launch of Citi's Return to Work Programme 2022, supported by Ambition! In this blog, Samantha Pang, Country Human Resources Officer at Citi Hong Kong shares more about the program and what you can expect as a participant.
​
Why is Citi launching the Return to Work Program?
The Return to Work Program is a supportive hiring initiative to help women transition from a professional hiatus into a career within financial services. Citi is tapping into the pool of competent female professionals who have taken time off for personal reasons and are ready to return to the workforce. For women who have spent time away from the workforce, the way back to a fulfilling career could be filled with apprehension. The competitiveness of today's job market with the ever-changing technology/regulatory landscape tends to make the aspirant feel overwhelmed. Citi is committed to enable an equitable and inclusive culture where we proudly reach our fullest potential. We believe that hiring people from different backgrounds with diverse perspectives brings advantages to our teams. Embracing diverse teams, ideas and possibilities helps us drive growth and progress
​
​
What can I expect from the Citi Return to Work Program?
Successful candidates will be placed in a range of roles across different departments based on their experience and skill sets. The program will cover orientation and onboarding; career development planning; soft and professional skills training; and regular check-ins with senior managers. New hires will be assigned a mentor and a buddy to ensure that they have all the support needed during the transition phase.
​
What are the qualities that Citi is looking for in candidates for this program?
We welcome women from varying backgrounds and level of experience to apply We are looking for employed professionals who have been out of the workforce for two or more years and are looking to return. Demonstrate natural curiosity and be motivated to learn new skills
​​
Why should I apply for this program?
We understand it can be overwhelming for anyone who has been out of the workforce for 2+ years to return to the workplace. This 6-month development journey designed to accelerate your progress and impact. It focuses on a structured and in-depth assimilation, providing ample opportunities to hone your corporate skills, enable a professional support network to fast-track success after a time-out from employment. We will assign buddy and mentor as well as a peer group to support you throughout your journey with Citi.
​
Do you have any advice for potential applicants?
Understand the latest industry development & Be positive. In the fast-paced banking world, things are moving really fast. It would be good for applicants to understand what's the latest banking trend or working model. Be positive – It may take some time for you to pick up your skill set again. Don't get frustrated along the journey and we are all here to help you and develop to fullest potential.
​
Interested in being part of the first Citi Return to Work Program in Hong Kong? Click the button below to find out how you can apply!
Discover more about the program
​