Back to Blogs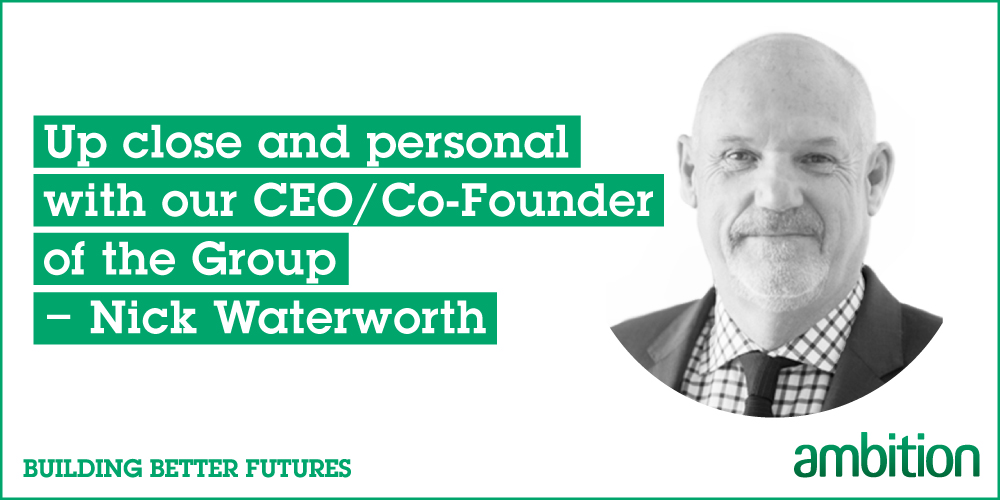 Up close and personal with our own CEO/Co-Founder of the Group
Tracy: Is green really your favorite color?
Nick: In general, I do really like green, it's beautiful. 20 years ago when I started Ambition, it seems like many existing recruitment agencies were already using lots of blue or red. Taking some professional advice from a branding agency, I picked green as the Ambition corporate colour and it has proven to work really well for us and importantly is a good colour for Asia.

Tracy: How do you usually like your eggs?
Nick: Egg white omelet

Tracy: What's your favorite beer?
Nick: A Japanese beer called Hitachino Nest White Ale;
It's one of the best beers I've ever had. However I am going dry (alcohol-free) for the month of July to support and raise funds for Dry July Foundation to help people affected by cancer.

Tracy: Have you got any phobias (spiders, cockroaches, height, ocean) that you'd like to break?
Nick: Living in Australia for a long time, I am not afraid of spiders, cockroaches or even snakes!. I have to admit that I really don't like heights.

Tracy: You've travelled around the world. Where is your favorite must-go spot?
Nick: Japan and South Africa. They are both very different places but have got amazing things to see.

Tracy: You've come to Hong Kong many times. Show us a line or two of your great Cantonese skills, please.
Nick: I can only do some simple greetings like 'Jo Son', means good morning, and "Nei Ho", means hello. I will try to learn more in my next few visits.

Tracy: Now teach us a line or two of authentic Aussie English, please.
Nick: I can speak Aboriginal! Warrawee Woolloomooloo Parramatta… actually these are three place names in Sydney! By the way, let me say that the Aboriginals are incredible people. They have been in Australia for around 40,0000 years and they are one of the great story-telling people in the world.

Tracy: Here comes a tricky question. In your opinion, which Ambition's office is the flagship office?
Nick: Haha, good question. I would have to say Sydney as it is our head office, plus I live there! However, the Hong Kong office is definitely our most successful and productive office within the group at the moment. Well done, Hong Kong!

Tracy: What's your take on the recent economy overall (US/China trade war, Brexit, HK's unstable political environment)?
Nick: The world is moving fast and it is always good to stay alert to what is going on around us and be agile to react if conditions change. However, imagine if we asked the same question to three Chief Economists from three banks; it is very likely that they would give us three very different answers and forecasts. Hence, my view on this is to focus on what we can control - certainly be aware of external forces but mainly continue to be close to our client and candidate needs. If you took a cursory look at politics, you would think that the London recruitment market would be severely hampered by Brexit, and Hong Kong negatively affected by the slow down of China and the recent political unrest – nothing could be further from the truth – both markets are showing high demand for talent.

Tracy: How do you see AI, automation, HRTech will impact the recruitment industry? How should we all prepare ourselves?
Nick: It's all about relationships, speed and efficiency. However, we should be fully abreast of advancing technologies and adopt ones that enable us to do our work even faster and better.

Tracy: Ambition's getting savvier about digital, what's on our tech investment horizon?
Nick: We see the importance of tech investments and we are committed to creating an efficient digital workplace. Some of our most recent tech investment projects include a real-time performance review system and a platform which will enhance our candidate experience.

Tracy: What are some of the best things you've ever heard externally about Ambition (about our Consultants / services)?
Nick: Many times, I have heard positive comments and they still make me smile. I have heard clients complementing our consultants on their great listening skills, their strong market knowledge, as well as their emphasis on the quality of candidates and service standards.

Tracy: How do you feel about working with millennials?
Nick: I love working with young people. They are energetic and full of ideas. In general, I just like working with great people, regardless of their age. I don't really mind what generation they come from.

Tracy: When you think of the best people who have worked for you, what are the common traits?
Nick: I have worked with many talented people and it seems like they are all quite unique. However, one thing seems to be common is that they have all gone through some obstacles, setbacks, struggles, or even failures (big or small) throughout their careers or lives. It seems like they demonstrate strong perseverance which is a critical factor for success.

Tracy: With our 'inch wide, mile deep' strategy, how well have we achieved at Ambition and what else can we do better?
Nick: We are focused on doing a small number of things incredibly well, hence inch wide, mile deep. I think we are doing very well but we can certainly be even better. Our aim is to be the market leaders in each of our recruitment specialisms; we are definitely getting there.

T: If you were to make a wish (and that wish would 100% come true), what would be your wish for our HK office?
Nick: My wish would be to have an indefinite supply of good people to come work for our business. Being in the recruitment profession, we know better than anyone that finding talent is always challenging. It's wonderful that our Hong Kong office is in such great shape, with a very low attrition rate and is considered an employer of choice.
Leadership cultivates the foundation of culture to empower employees to achieve the company mission and business goals. At Ambition, we celebrate a strong culture of trust, openness, and authenticity. Thank you Nick for being my very special interviewee. It has been indeed one of my most memorable interviews, full of wisdom and laughs along the way.