Back to Blogs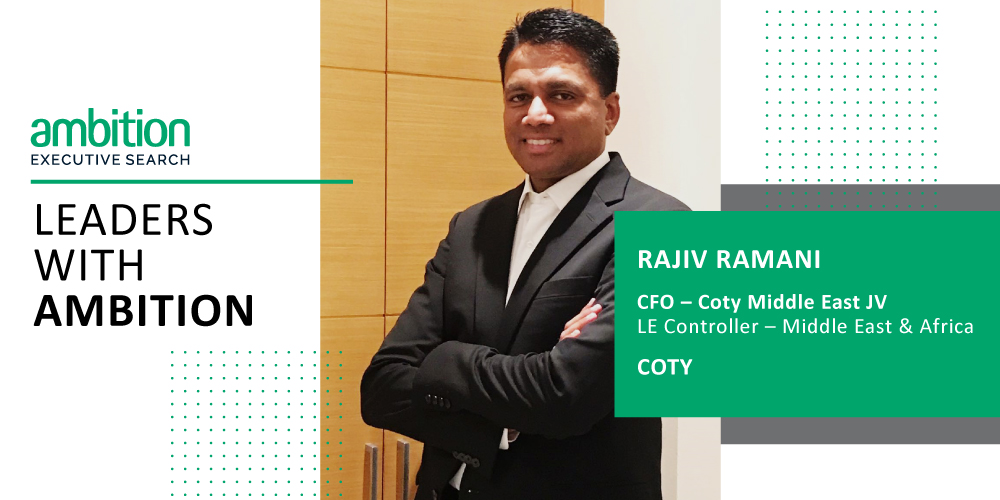 Leaders with Ambition - An interview with Rajiv Ramani of Coty
With his extensive experience in finance across industries and markets, Rajiv Ramani has plenty of interesting stories to share. In this edition of Leaders with Ambition, he tells us more about his personal role models, the biggest lessons he learned in his career and what he would do if he won the lottery. Rajiv is currently the CFO of Coty Middle East JV and LE Controller of the Middle East and Africa regions.
Coty is one of the world's largest beauty companies with approximately $9 billion in revenue, with a purpose to celebrate and liberate the diversity of consumers' beauty. Its strong entrepreneurial heritage has created an iconic portfolio of leading beauty brands. Coty is the global leader in fragrance, a strong number two in professional salon hair color & styling, and number three in color cosmetics.
Coty has approximately 20,000 staff globally and its products are sold in over 130 countries. Coty and its brands are committed to a range of social causes as well as seeking to minimize its impact on the environment.
​
1. How did you get to your position today?
Hard work – there is no substitute for it.

After my father passed away before I graduated, I had no father/senior figure to provide me with career guidance. However, I was very fortunate when I first started working with EY; I had an Audit Partner and Audit Managers who took the time to provide me with that guidance and advice. The most important piece of advice I received is to have an ambition or an overall objective of what I want to be 10 – 20 years from today. Following which, putting a plan in place to achieve that, which forms the building blocks to achieving my ultimate goal/ambition.

After leaving EY, I joined Coca-Cola in Singapore in an Internal Audit role. After a year, I was posted overseas and continued my journey with them for 13 years, moving from a governance role to FP&A and commercial finance across multiple geographies. Once I left EY, I was on the lookout for a mentor/senior figure I could seek career advice from. I was lucky that 2 years in, I found one! He helped me as I grew within Coca-Cola and shaped my career with them.

I left Coca-Cola to join a European MNC in a regional finance leadership role, before moving to Malaysia to work in a Malaysian public listed company in the media space. A complete change from consumer goods! I did that because that was part of the building block which I had in mind to reach my ultimate goal/ambition. I then relocated back to Singapore to join another American MNC in the beauty industry in a regional role. It was through this company that I subsequently relocated to the Middle East. The reason I made these moves was that I felt that there were still some missing building blocks that made up my experience. Titles were not a concern to me; I focused on the experience and learning I was going to get through these career moves.

A year after moving to the Middle East, I was appointed CFO and Secretary to the Board of the JV that operates here. This came with a whole new set of challenges and experiences.

As I reflect on my career, I believe it is important to have an ambition or a goal that you continue to work towards. In addition, I believe it is useful that early in your career you have a senior figure/mentor who you can call on for advice. Believe it or not, 20 years later, I am still in touch with my EY bosses and still count on them as my sounding board, even after some have retired or are close to retirement.
​
2. From your first job until present, what important lessons have you learned along the way?
Work on earning respect rather than winning popularity.

Build and earn credibility & integrity - your unique brand - it will be your calling card of who you are.

Be accountable for your actions - for better or for worse.

Over time, you will learn when you need to lead from the front, and when you need to lead from the back.
​
3. Who is your role model and tell us a bit about them.
I have four role models.
Role Model 1: My previous line manager. He is currently the CFO of Coca-Cola ANZ.
Role Model 2: I was very privileged to have him in a mentor training session. He's a die-hard Liverpool fan, which got us talking as I'm a die-hard Manchester United fan! He's currently the CEO of Malaysia's leading radio station and, by his own admission, Malaysia's oldest DJ. He goes by the moniker "Jakeman" and is a fitness fanatic.
Role Model 3: He is someone I had the privilege of working with during my stint in Malaysia. He came from very humble beginnings, in the state of Johor in Malaysia. He excelled academically, became a Petronas scholar, went overseas to study and eventually became the CFO of Petronas. He then went on to become the COO of a public listed company in Malaysia. He has recently followed his passion and set up a company managing local musical talent. Now, he produces music and is still active in the accounting profession.
Role Model 4: My late grandfather. He came to Singapore with practically nothing and went through the Japanese occupation. He became qualified as a quantity surveyor and was involved in several projects with NUS. It is nice to drive through the campus today and admire some of the buildings that he had a hand in constructing.
All my role models got to where they were through sheer hard work – putting in the effort consistently, day in and day out. They built their credibility. I have also observed that they have 3 things in common:
Humility

They walked the talk

They placed their families and health first, always
​
4. What inspires you?
The ability to help others, whether it's my mentees or my team, to develop and grow. To see them succeed and thrive in what they do!
​
5. What is your greatest achievement to date?
I worked on a project that involved securing the worldwide rights to a specific sport. It was my first Mergers & Acquisitions (M&A) project. I faced a steep learning curve and made a few mistakes along the way. However, the project was completed on time, secured Board approval and thereafter, the sports subsidiary was successfully integrated into the Group. Following the completion of the project, I was made a non-executive director of the sports subsidiary. It was extremely satisfying to see the business evolve and grow.
​
6. What is the biggest challenge you've faced in your career and how did you overcome it?
A few months after I took up my first finance leadership role, the General Manager (GM) of the business (and my line manager) requested for an amount to be donated to a particular charity. Through the course of our conversation, I learned that he was a board member of that charity. Once I discovered this fact, I cautioned that it may not be wise to proceed with the donation, regardless of the amount, due to the perceived conflict of interest. He was clearly unhappy with my comment and expressed his displeasure with me. However, I maintained my stance.
For a few days, we didn't speak to each other and I gave him space to cool down. After a week, I proposed that we speak to our respective functional bosses to make them aware of this and for us to seek their guidance. I also brought up that if they gave their approval, we should have this documented to ensure good governance and file it with legal. He agreed and we were given the go-ahead to make the donation but at a reduced amount. We ensured that it was all documented and filed with legal.
About a month after this incident, the GM and I were having a drink and this topic came up. He apologized for what occurred and went on to say how he appreciated what I did and that I had earned his trust and respect. By doing what we did, we individually maintained (or even enhanced) our personal credibility and integrity.
​
7. What is the most valuable advice you have been given?
There are probably two that I still hold on to:
My first overseas posting was to Vietnam in the late 90s, when the market was first opening up. I arrived and did not like what I saw, both in and out of the office. I spoke to my boss back in Singapore; I told him not to punish me in this manner and I'd rather he cut my bonus! He told me to focus on the positive aspects of the place and not to benchmark everything to Singapore. I had to try being there for ten days and when he came over for a visit, we would sit down and discuss whether I would return to Singapore. Well, I ended up staying and at the end of my assignment, I was given the opportunity to move to Atlanta and be part of the Global Corporate Audit team. My boss' advice continued to come in handy as I lived and worked in a few difficult locations. I also used his advice, looking at the positive aspects of a situation, whenever I faced a challenging situation in the office.

In my early years with Coca-Cola, I was impatient about getting promoted and growing my career. One of my line managers told me this "good things will happen to those who are patient". I learned to be patient and to let things take its course. I found that more often than not, the fruits of your labor will indeed grow, even though it may take longer than you expect or want it to.
​
8. What advice would you give to professionals looking to excel in their career?
Have an ambition/a long-term goal and work towards it. Sometimes this may mean making a horizontal career move or even taking a temporary cut in your salary, but it will pay off in the long term.

Build and earn your credibility and integrity early in your career. This will put you in good stead in years to come.
​
9. Can you give me 3 things on your 'bucket list'?
Set up a scholarship, in my grandfather's name, for 1 student at NUS or NTU to complete their undergraduate degree.

Set up a scholarship, in my father's name, for 1 student in a Malaysian Institute of Higher Learning to complete an engineering degree (as my late father was an engineer and a Malaysian).

To complete a signature and memorable train journey in every continent - e.g. the Glacier Express in Switzerland, Trans Siberian Railway, Train to the Clouds in Argentina etc.... There is a list!
​
10. What 3 words would you use to describe yourself?
Determined, patient and solution-oriented.
​
11. If you could live in any country in the world, where would you live?
Having lived and worked in many places, it's tough to pin down THAT one place, so it would have to be two countries for me - Malaysia & Singapore.
There is a saying - you only appreciate something once you no longer have it. I was born in Singapore but grew up in Malaysia. I did my National Service and started my career in Singapore before leaving for my first overseas assignment. As I moved from one location to another, visiting many places around the world, there was one thing that hit home - I really appreciated what Malaysia and Singapore had to offer only after I left.
​
12. If you won a lottery ticket worth $10 million, what would you do?
Accelerate the execution of my bucket list

Help my wife with the execution of her bucket list

Figure out a constructive way of giving back to the (disadvantaged) community in a way which will improve their livelihood.