Back to Blogs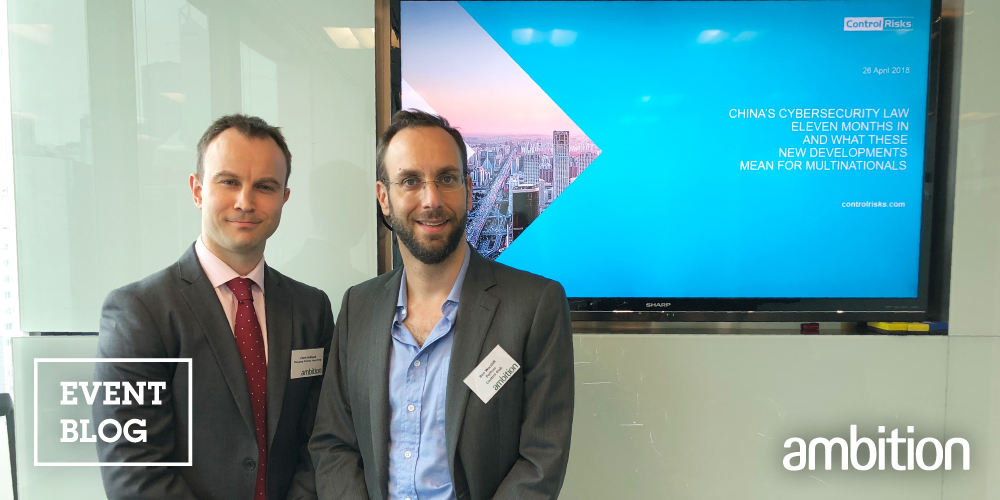 China Cybersecurity Law Update with Control Risks
Recently, we had the pleasure of hosting a Cybersecurity Seminar in conjunction with Control Risks. With a full house of CFOs, CISOs, CIOs & CEOs in attendance and some healthy debate on the topics under discussion, Ben Wootliff, Partner and Head of Cyber Security of Control Risks, joined us as our distinguished guest speaker. In his role as Head of Cyber Security for Asia, Ben has built a market-leading cybersecurity practice and advises on a range of cybersecurity, investigative, crisis, and security management & political risk projects. He also manages the corporate investigations business in Greater China and North Asia.
China's much anticipated new Cyber Security Law (CSL) came into effect on June 1, 2017. At the time of its publication, it was unclear who was subject to the new law and what exactly was covered. Almost a year on and the law remains vague but there have been several key developments. Ben shared his insights on the implications for businesses in Hong Kong, what multinationals are doing in response to the changing environment, and also shared what enforcement activities are going on and who / what are the key targets.
What is clear is with the introduction of this law, GDPR, as well as multiple high profile hacking cases, both of global multinational companies as well as many smaller businesses in Asia throughout 2017 and 2018, cybersecurity remains an extremely hot topic and there are no simple answers.
If you would like to attend our next event or are looking for a new role in Cybersecurity in 2018 or would like to find out about how Ambition can help your business source talented professionals with Cybersecurity and IT skills sets and many more, please get in touch!