Back to Blogs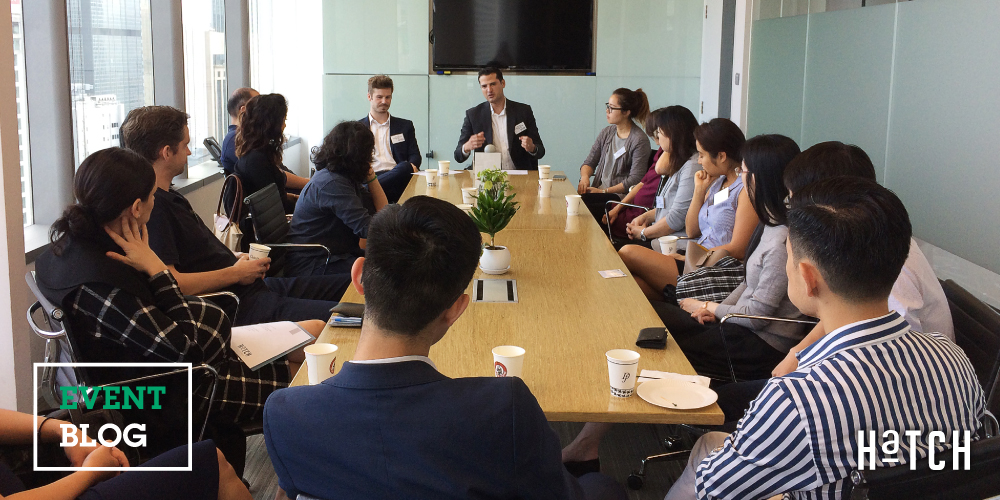 How To Market Yourself and How To Develop Your Talent Pool
For this particular HaTCH event, we collaborated with Pivot to do something a little different for the startup community. We simultaneously ran both a "How To Market Yourself" workshop for professionals and a "How To Develop Your Talent Pool" roundtable discussion with an opportunity to meet startup companies.
The "How To Market Yourself" workshop was run by our HaTCH Director, Justin Leung, our Learning and Development Lead, Tracy Tam and Pivot's co-founder, Lauren Lin. We carefully identified 3 key areas that we believe working professionals applying for startup positions would want to improve:
1. CV Structure
Having a well-written and structured CV is essential when applying for jobs. On average, employers will only review a CV for 6 seconds, so it's absolutely essential to have the right information displayed in the most effective way. This will drastically increase your chance of gaining that first interview of the dream job you're looking for. The key insights shared are:
Always tailor your CV for the role you are applying for. Revisit each point and area of professional experience, editing it to highlight how the responsibilities, field, and challenges are relevant to the focus of the company and the role

Include a strong summary statement illustrating your skills and experience that are most relevant to the role

Use a "Core Skills" section to summarize your competencies using an easy-to-read bulleted list following your profile/summary section to highlight your most in-demand skills

List out your important takeaways clearly

Triple check for accuracy
2. Promoting your Personal Brand
When an employer looks at you, what is it that you want your employer to see? Ambition, hard work, dedication? Justin ran through with our candidates how to improve their image, not only to potential employers but to their wider respective networks. The key insights shared are:
Personal branding and how it has become so important because in the world we live in today, there is too much noise, content, data etc.

The importance of personal recommendation in consumerism, especially when up to 50% of purchasing decisions are made via word of mouth. Think about the last time you booked a holiday, chose a restaurant, or bought a car. You quite likely asked for recommendations, from a person. No doubt, you would also research online to draw facts and data, but nothing is more influential than a recommendation from a trusted friend

People buy from people, not companies
3. Interview Do's and Don'ts
I'm sure we've all come out of an interview and thought it went really well, only to hear that we're not chosen to progress to the next stage and we're left asking ourselves, "what actually went wrong?". We ran through the most important "Do's and Don'ts" in order to give you the best chance of securing that dream job or progressing to the next round. In this workshop, some very interesting and insightful group discussion was made, based on extracted job interview scenes from two classic Hollywood movies:
"The Pursuit of Happiness" by Will Smith - Here, we learned from Will Smith (Chris Gardner in the movie) about how effective it is to back up answers with more specific examples and using a sense of humour to tackle difficult interview questions

"3 Idiots", an awarding winning Indian comedy - Here, we discussed implementing storytelling skills in interviews such as when Raju (the character) had to explain his unfortunate suicide incident and how he grew stronger from it. Raju eventually got hired for the job. The "3 Idiots" scene also reminded us the importance of finding a right job whose companies' core values should be more or less aligned with our own values.
​
The "How To Develop Your Talent Pool" roundtable discussion was facilitated by Kimberly from Pivot and myself. We hosted a multitude of startups, entrepreneurs, VC's and senior executives at our roundtable discussion. Together, we shared our experiences and thoughts around our existing hiring processes and came up with solutions on how we thought we could collectively improve it.
During the discussion, it was fantastic to see the innovative and fresh ideas arise. We bounced ideas off each other and discussed how we would move forward with hiring processes, hiring the right people, what attracts people to work for start-ups, hiring senior candidates, amongst many other topics. It was very engaging and energetic and everyone took a chance to share their experiences or ask questions. Given the feedback, it was a very insightful for the attendees and we are already looking to host our next roundtable.
Some key takeaways from the roundtable are:
Hire the passionate candidates – those that believe in the product. Skills can be taught but passion can't

Senior hires are very useful but don't always suit the startup culture

Be loud and proud about your culture and what you stand for

Make sure to highlight the candidates' career path and long-term progression

Often startup hires have to wear multiple hats and do things that weren't stated in their JD

Care about your hires – always connect with them personally as they are a representation of you

Startup hiring managers place a lot of emphasis on what you do outside of work rather than just your current job responsibilities.
The event was a huge success with a lot of positive feedback. A massive thank you to Pivot for co-hosting the event with HaTCH and supplying your expertise! Please stay tuned for our next HaTCH event!

If you are interested in learning more about Hatch, please feel free to connect with me over LinkedIn or contact me at alex.king@hatch.careers