Back to Blogs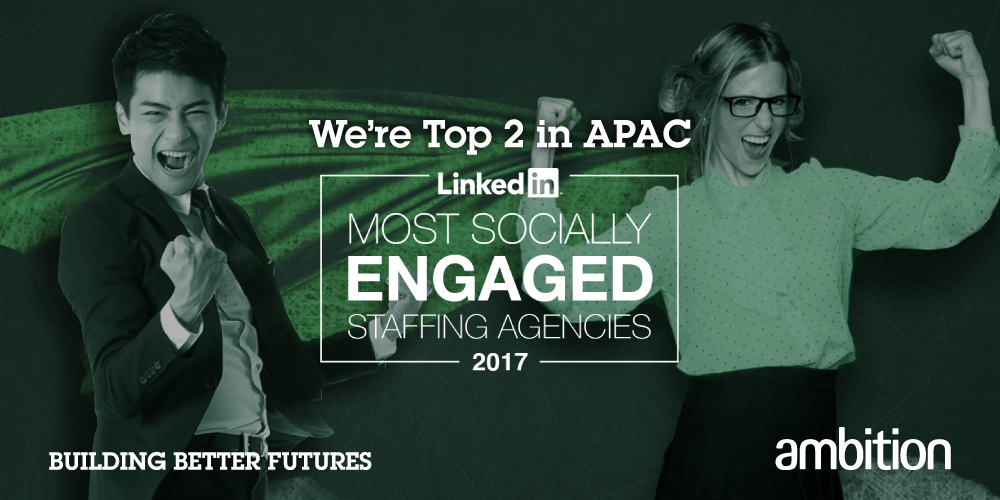 Top 2 Most Socially Engaged Staffing Agency on LinkedIn
We did it again. We are extremely proud that Ambition is in the Top 2 list for 'Most Socially Engaged Staffing Agencies' in APAC on LinkedIn!
How did we do this, you ask?
Well, we owe it to you, the people we meet every day, who inspire us to create insightful and relevant content.
If we can't provide this information to better people's careers, then who can? It's in our DNA.
Every day, we meet organisations of every form and size, from big corporations to SMEs to start-ups. They tell us about what's brewing in their market. Their challenges in hiring the right people. The type of people who are in short supply. And where the future recruitment pressures lie.
Every day, we talk to extremely talented individuals from different industries. They tell us of their experiences, challenges and fears that they face in their careers today.
Through meaningful connections like these, we bring insightful content to you. We're ecstatic that LinkedIn gave us the thumbs-up for getting good at this!
So to each of our followers, our readers and our customers: Thank you. We could not have done it without you.
You have our promise of an ever-growing library of knowledge which we will share with you. We want you to be in the best position to progress your career. And we want you to find the best talent for your team, whether directly through us or not.
You can read more about the awards and the methodology on LinkedIn.
Thank you once again.