Back to Blogs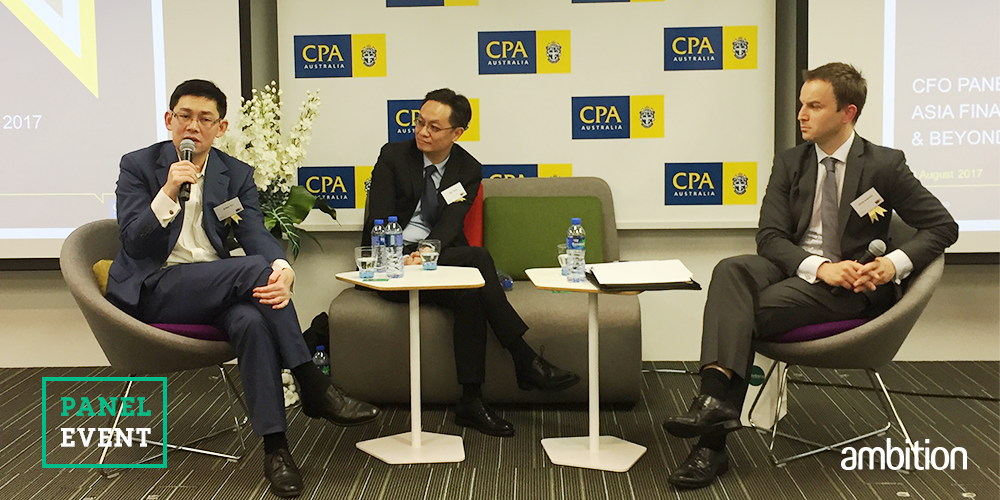 CFO Series | Asia Finance Outlook 2017 and Beyond
Our latest CFO Panel Series event in conjunction with CPA Australia & Austcham was held yesterday with the discussion centered on 'Asia Finance Outlook 2017 & Beyond'. Our panelists consisted of Arthur Yu, CFO, Asia-Pacific, Middle East, Africa and Turkey – BT, and Kim Tang VP, Corporate Services – City Super Group. As well as our speakers, we had a full house of CFOs and senior finance professionals in the audience.
Our discussion focused on business issues & trends in Asia & Hong Kong, as well as how these affect the role of senior finance professionals. We also discussed some of the key challenges CFOs face in their current roles as well their outlook on the future business environment.
Key Takeaways:
There is still a level of global uncertainty & political instability affecting the business environment (eg. Brexit negotiations, UK and French election results, Trump presidency)

Increased use of technology, especially the shift towards cloud-based services & solutions is significantly disrupting the way in which we do business in Asia.

There has been an increased focus on Cybersecurity in many organisations due to high profile hacking cases hitting the headlines worldwide as well the introduction of the new China Cybersecurity legislation

Traditional retail businesses have faced challenges throughout the past 18 months in Hong Kong

Although Hong Kong remains well behind China, the continued rise of E-commerce will increasingly affect the traditional retail market here in Hong Kong.

Within the retail industry, a key trend is the shift towards 'lifestyle' stores and malls

In relation to what keeps CFOs up at night, some of the key concerns would be the political uncertainty in Europe and US and the impact on exchange rates

Looking forward into 2018 & beyond, retaining top talent through strong and transparent leadership as well as and being able to provide millennials with career progression or career 'experiences' was highlighted as a top priority for CFOs

Key growth sectors to watch out for are: Technology & Fintech

Leading financial transformation & change management will be an ever-increasing part of the role of a CFO

Integrity underpins the role of the CFO – never compromise!

The ability to manage and embrace technology and drive innovation will be a key driver to the success of a CFO.
Many thanks to our panelists and to all those who attended and if you are interested in attending our next CFO Panel Series discussion in please get in touch.