Back to Blogs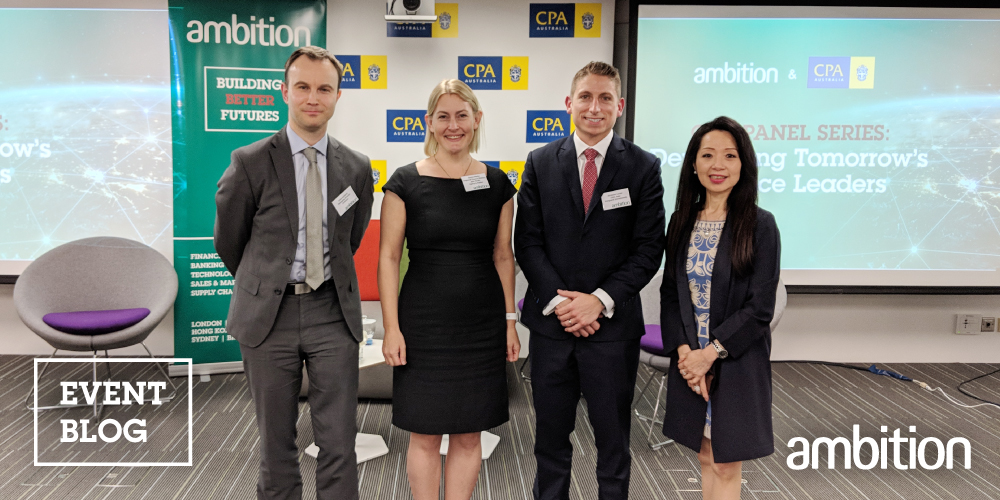 5 Top Tips: Developing Tomorrow's Finance Leaders
5 Top Tips: Developing Tomorrow's Finance Leaders
In conjunction with CPA Australia, our latest CFO Panel Series 'Developing Tomorrow's Finance Leaders' was held last week. Our panellists were Nicholas Lucas, Chief Operating Officer (Asia) at Vanguard Investments, Emma Martin, Regional Finance Director, Asia Pacific, at Ogilvy & Mather and Vincent Folk, CFO at Boyu Capital as well as our moderator Chris Aukland, Managing Director at Ambition (ASX publicly listed recruitment group).
We discussed how tomorrow's finance leaders will face a whole myriad of challenges that the traditional CFO of the past has never faced. Not only will they be confronted with the rapid pace of technological change, ongoing economic uncertainty and geopolitical instability, they must also navigate an increasingly complex global marketplace with a growing millennial workforce that demands a whole new style of leadership. Our panel attempted to answer how best to develop world-class finance leaders today ready for the challenges they will face tomorrow as well as sharing challenges from their current roles and their top tips to become a CFO.
Top 5 Takeaways on 'How to Develop World-Class Finance Leaders':
'Take a friend' & Invest Your time – As a finance leader (or in fact any type of leader) the best way to help coach and train your team is for them to learn from you. Therefore, at every possible opportunity, involve and spend time with your team. Take them along to critical business meetings, business trips, ask them to listen to critical calls and involve them in the decision making.

Remove the 'Fear of Failure. 'Allow' your team to make mistakes. Pushing finance employees out of their comfort zone means they will make mistakes but not only is it far more likely to keep them engaged and loyal but will add far greater value to your business long term. Removing the fear of failure is critical!

Open the 'What's Next' career discussion early (and don`t stand in their way!) – In order for you to develop quality finance talent, employees need to work together with you for a sufficient period of time. However, you also need to be prepared to support them to take that international career opportunity or internal transfer when the opportunity arises. A key point was mentioned that in Hong Kong culture, it is often far easier for employees to give in their resignation and move organisations and roles versus looking for a promotion or career move internally. Make sure this does this does not apply to you by building trust with your team, having ongoing career discussions and don't stand in their way!

Stay up to date with Technology! Our panel universally agreed that one of the greatest challenges facing the finance leaders of the future (and now) will be the ability to embrace technological change and drive digital transformation. For those in leadership roles looking to coach future finance leaders, it is therefore critical that they too must stay up to date!

Explain Why! When our panel was asked how best to prepare and train finance professionals to deal with economic uncertainty and geopolitical instability, the overwhelming response was 'it's not easy'. However, one piece of advice was, always explain and answer 'why' you are reacting/making the decisions you are making and asking for your teams' opinions on how they would help you navigate through these challenges!
Finally, thank you to all those who attended our panel discussion event and we hope to see you at the next one.