Back to Blogs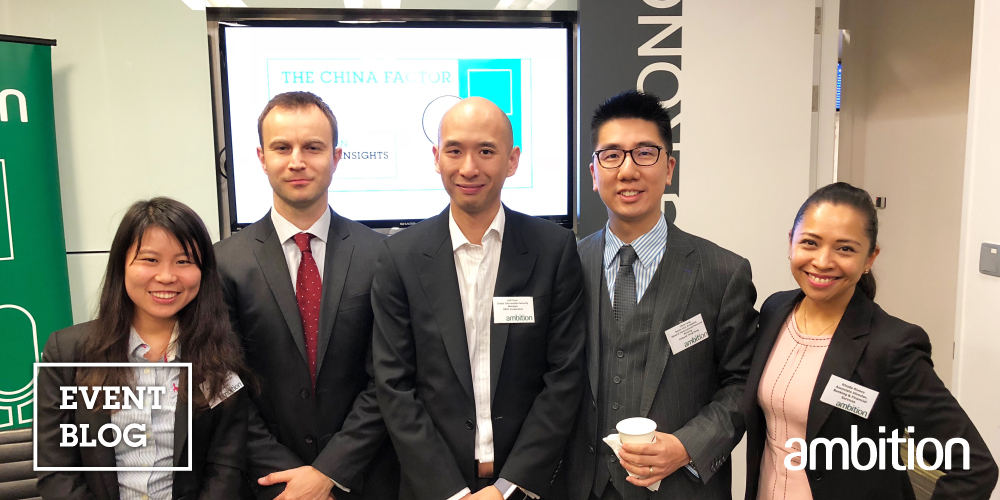 How To Make Yourself An Invaluable Asset In Today's Hong Kong Financial Market.
Ambition Career Insights Series: The China Factor in the Banking and Financial Services Sector
Hong Kong is undoubtedly one of the key financial centres in the world. Key statistics serve as testimony to this status: 73 of the world's 100 largest banks are present in Hong Kong. Every day, different Financial Services firms try to expand their business across the China market.
In our exclusive event, Ambition's inaugural Career Insight Series in Hong Kong, the attendees heard first-hand insight from our distinguished guest speakers on how increased demand for China knowledge and experience is changing the talent landscape in Hong Kong as well as learned how they could equip themselves with the skills to advance their careers within the financial services sector.
We were delighted to have our insightful panel of speakers: Chris Fung, Senior Vice President, Head of International Personal Banking - Citibank and Jeff Chan, Global Information Security Manager - ORIX Corporation, who generously shared their thoughts and experiences.
​


Key Takeaways from our discussion:
China's influence in the Hong Kong financial market has been increasingly significant and we see this not just with financial institutions, but also other non-financial services industries. The emergence of more advanced technologies and ideas has been pioneered by some of the big Chinese based companies, which are becoming leaders in robotics and process digitisation in the globally and regionally.

Other than technical and Mandarin language skills, both of our speakers agreed that positive attitude is crucial to one's success working not just in Chinese institutions, but also wherever they want to develop their career. The willingness to learn, eagerness to improve, and openness to understanding the business culture as well as its people are invaluable assets. Technical skills requirements constantly change, but a professional's attitude is really what sets each and every one of us apart.

For handling stress, the speakers touched on both Work-Life-Balance and Work-Life-Integration. Different people have different styles but the key is to make an effort in finding what works best for us.

It was my pleasure to moderate the event. Now our candidates have got some insights into how they can make use of their skillsets in climbing up the ladder in the fast-growing financial market and also have a chance to connect with people within the industry.
If you are interested in joining any of our upcoming events, please follow us on social media at LinkedIn, Twitter, and Facebook or check one of our global websites, at www.ambition.com.hk.